By Ryan Knoblauch, M.S. CCC- SLP
Here we go. It's the final season of American Idol. If you have kids of your own or you work with kids, then it's likely they know a little bit about the show. I personally have watched about four seasons collectively (a couple of the Simon Cowell years and now with Urban, J-Lo, and HCJ). So, okay, it's all right to be an adult and enjoy it too. Enough of that.
Why am I writing about this in a speech therapy blog? It's something that people talk about. A lot. Think about it. In what ways do people communicate when watching American Idol? They talk about it as the show is happening. They post comments online. They Tweet to the world. They vote for their favorites. They text their friends.
There are many ways for nonverbal people of all ages to participate in a typical activity like this. Whether it's using a one-button switch or a communication device with core vocabulary, there are many communication opportunities to behold when watching American Idol.
Here are some ideas on how to use core vocabulary or switches while watching American Idol:
Come up with some descriptive comments to say during and immediately after each performance. Record them on one-button switches. Practice the sequence of the phrases using core vocabulary. He was great! I did not like that one. She sounds terrible!

Compose Tweets (with hashtags of course) and post them online. Look at this tweet from last week's show. Can you see the core vocabulary?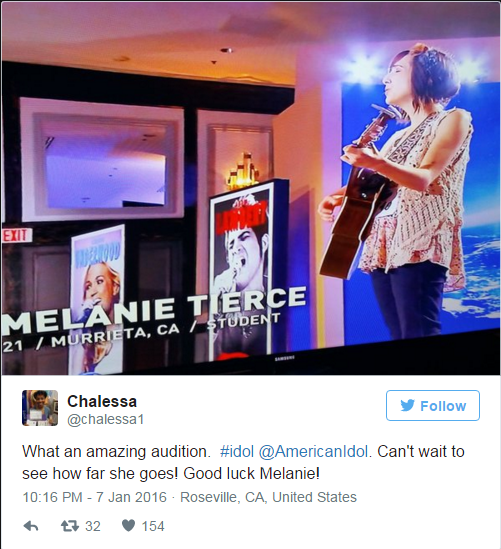 Print off a list of the night's performers prior to the showing. Then rate each performance by giving descriptive comments regarding sound quality, stage presence, dancing skills, song choice, and an overall score. Her dancing was good. His singing was awful. I liked that song. She sounds awesome! I give him a 10!
I did this activity with my high school age severe cognitive impairment classroom last year. It was one of those great speech therapy sessions where the students were all engaged. I was able to set up a variety of communication opportunities with my switch users and my communication device users. For some, we even simplified the activity to just practice the sequences I like it. and I did not like it. This turned out to be a great, age-appropriate activity for these students! Whichever way you decide, keep doing naturally occurring activities like this at home and school. This promotes novel opportunities to communicate and lots of repetition to learn.

Stories and Strategies fo...
---