See what's free.
The AAC Language Lab offers many free resources, providing an opportunity to explore this great resource prior to subscribing. Resources include Parent Guides, sample lesson plans, manual communication boards and much, much more.
Join us for a Quick Tour of the Lab
Register here for the date that works for you!
Realize Language is now available to try FREE for 2 months! Realize Language, our online data tracking service, gives parents and professionals powerful ways to monitor, measure, and maximize the use of a speech device. Visit realizelanguage.com to sign up today!
Explore the Language Lab's free content:
Why Subscribe to The AAC Language Lab?
Knowing many schools are closed, we wanted to help provide you with quick and easy activities to engage children at home so we have temporarily set-up a FREE 2-month subscription option. Start by creating an account then, under My Account, go to Purchase for Myself and select Free 2 Month Trial under the Language Lab purchase options.
As a subscriber, you will have 24/7 unlimited access to all content including innovative and interactive tools and materials for those supporting students who use an AAC device. All materials are available where and when you want them, on a variety of platforms, making teaching and learning language convenient and fun.
For an annual fee of US$19.95, this valuable resource will enhance your ability to help your client, student or child learn language with easy-to-understand lesson plans and fun-filled activities.
A Smart Chart is a list of the icon sequence/s you will need to locate the target vocabulary for this lesson. Choose your language system and level to access the specific Smart Chart you'll need.
Smart Chart example: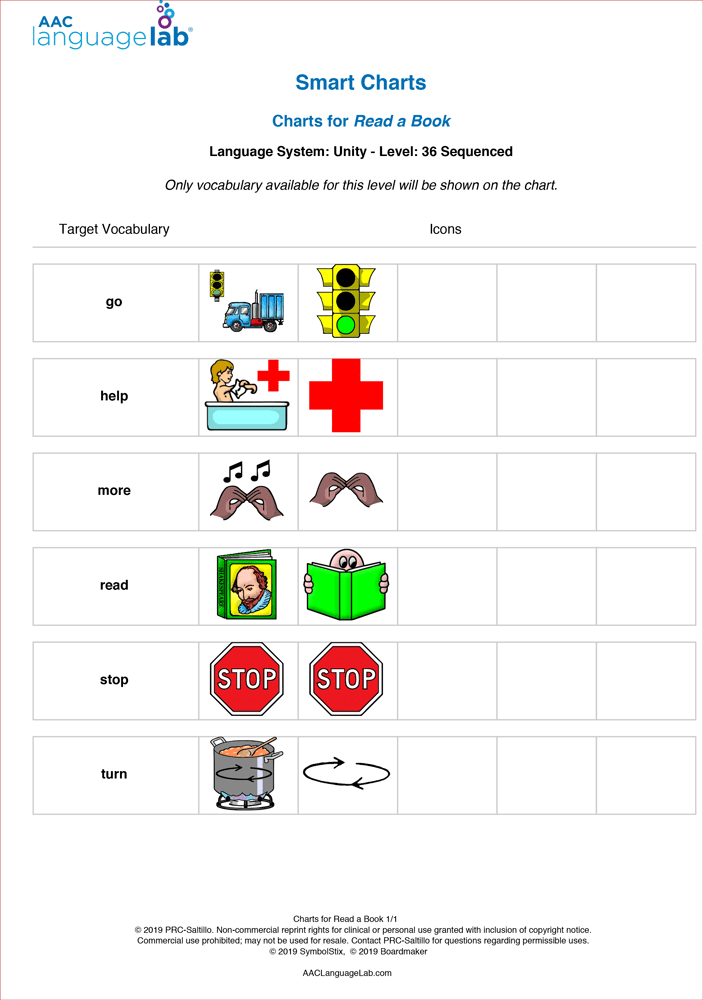 Build your own smart charts within lesson plans and activities.