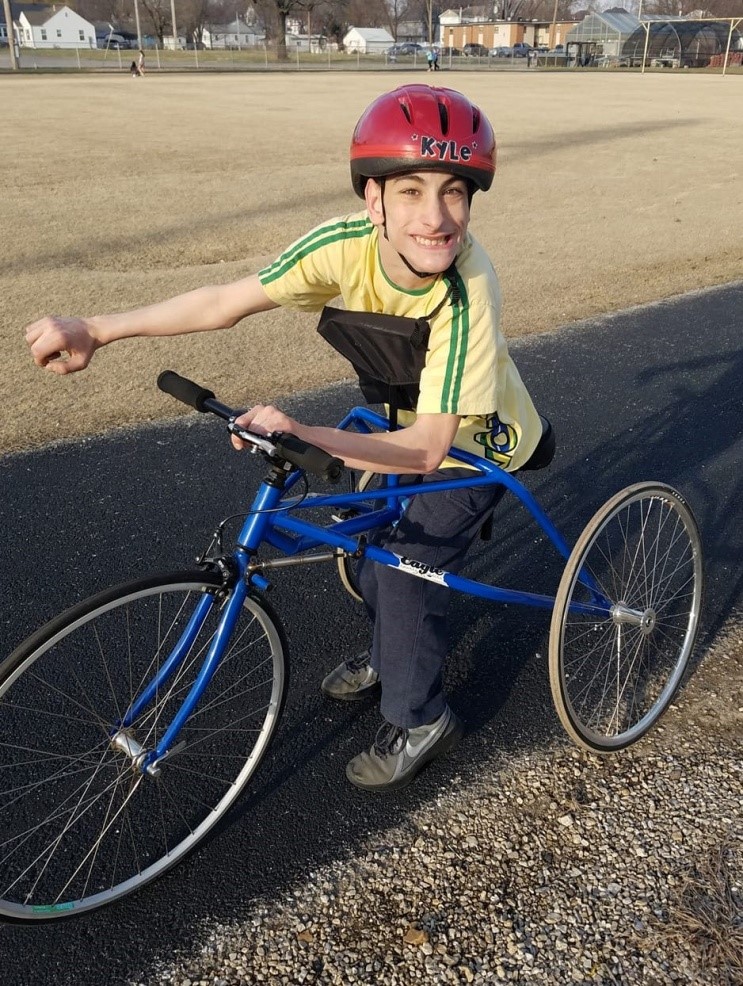 _By Kyle Dinwiddie, PRC Blogger
Having CP isn't a walk in the park. I have my ups and downs. I have big struggles and I have small struggles. Basically, you can say I am very human. For example getting dressed can take me a long while. Just to put my shirt on, I have to lay the whole shirt flat; make an opening; relax myself; put my right arm in the sleeve; then put my head in; and finally my left arm in the sleeve all the time hoping that I haven't put it on backwards. And this is only getting my shirt on. I still have my pants and socks to think about. Everyday things that you don't think about can be a struggle for me. But that's my life.
My family and I went to TGI Friday's for the first time. It's a fantastic restaurant. My dad is a cheeseburger guy. He is always in the mood for a cheeseburger. So, of course my dad ordered the yummiest sounding cheeseburger on the menu. I, on the other hand, am a chicken strip guy. I could eat them anytime and anywhere. So, it was the Jack Daniels chicken strips that sounded heavenly to me.
After ordering we all sat, waiting in anticipation for our food. And to my surprise, the waitress came with a gigantic platter filled with Jack Daniel's chicken strips. In fact, it was so large that the waitress knew that I couldn't possibly eat the whole thing. So at the same time, she brought me a To-Go container. It looked like it could have fed four men alone. I quickly dived in. It was so delicious. I ate, and ate, and ate.
Suddenly, I felt like someone from the restaurant was watching me. I did struggle a little, but you have to take my word that I did eat the "whole" thing. Yep, that's right! I ate every single bite. I set back in my wheelchair feeling very satisfied. And that's when I noticed the cook looking at me. He was totally amazed that such a skinny, tiny guy could eat so much. He had to come over and shake my hand.
I have done a triathlon, I ran a 1k, I play baseball on a league, I can eat more than you think, and I live life with a disability. So what are your issues and problems? Stop sitting on the sofa, watching who Eric will choose on the Bachelor…by the way, I was totally shocked he chose Rebecca…but back to my point. Go out and do something in this world, because this life won't always be here.
A week ago I saw someone post a question online about if you could get a do-over, would you want to take away your disability. My answer would be no, because I am very blessed even with my disability. I hope I can help people to realize that we all have disabilities of one sort or another. We are only limited by what we let limit us.
2 Corinthians 12:9 says, "My grace is sufficient for you, for my power is made perfect in weakness." Therefore I will boast all the more gladly of my weaknesses, so that the power of Christ may rest upon me.
This is life with Kyle, and I will talk to you next week.

Life with Kyle
---