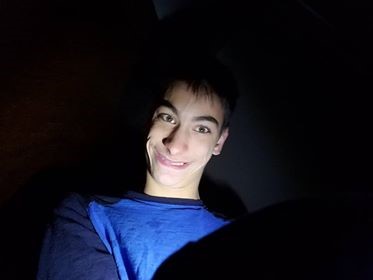 By Kyle Dinwiddie, PRC Blogger
I wanted to give a shout out to all the people who wished me well and sent me cards following my kidney stone surgery. Thank you very much, and I am feeling better every day. I am honored and touched.
Last Friday I went to a Brew Brothers 'coffee shop Worship event in my hometown. It was awesome. Some of my friends from church were there.
My dad and I got the chocolate covered strawberry frappe. I know I say this with every coffee I have, but I think this one, the chocolate covered strawberry frappe, is now my favorite!
Laughter is the best medicine. "A spoon full of sugar helps the medicine go down," is a quote from Walt Disney's Mary Poppins. Sometimes life throws you some rotten eggs, or someone says something hurtful to you. What would you do? You need to lead by example.
All I see is so much war and sadness in these days. I think we need to laugh and we need to make others laugh. Be a light in this dark world.
The way to be a light is helping people. Feeding the hungry; Giving money to the poor; Telling people about Jesus; Making the sad happy; Making someone smile. And for you; be happy about what you have.
I have a jar in my room that I put coins in. That small plastic jar has taught me something. I learned that I love pennies. This tiny copper coin is worth something. It is one cent, and one cent is still money. What many throw on the ground and have little care for, does have value. Just as each one of us has great value.
I think you should treasure the littlest things that you have, like my love for pennies. Be happy in this sad world. Be a light in the darkness.
And your greatest treasure is Jesus. But this treasure isn't only for you. Give it to others by telling them about our king. Whether you go out and tell a friend, or on social media, you have the power to change the world.
There is a parable in the Bible that talks about this. You can find it in Matthew 25:14-30. It's about three servants who received coins from their master and what they did with these coins. Two of the servants invest their coins, but the third one hid his. The ones that invested their coins got more, but the one that hid his got none. So, this story reminds us that we should take a chance with our treasure, and not sit on it. Our treasure will grow only if we share it.
This is Life with Kyle and I will talk to you next week.

Life with Kyle
---