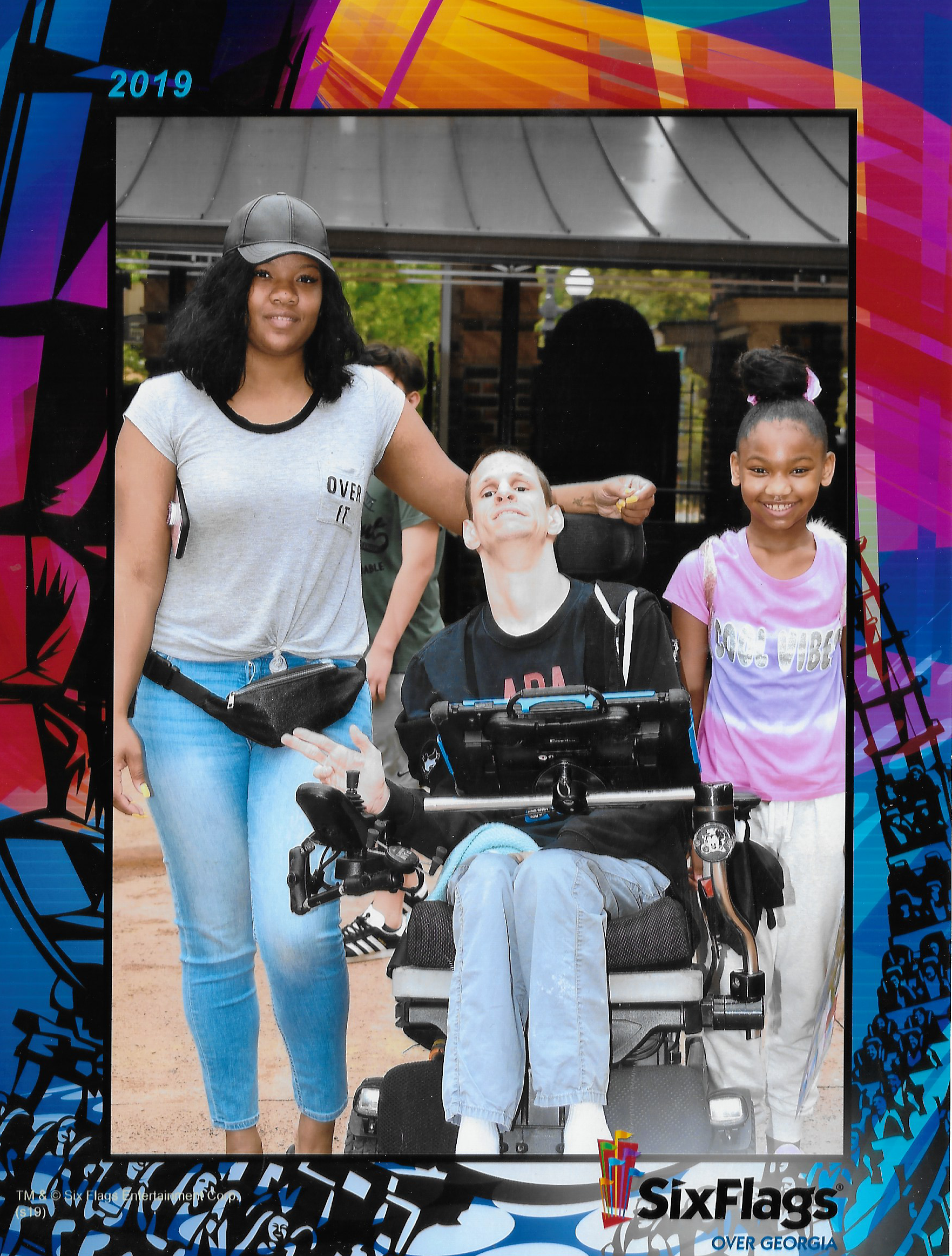 By Danny Gonzalez, PRC-Saltillo Blogger
I am going to talk about how theme parks handle people with disability and how they handle the disability people and the rides. Some places handle the disabled people good then others they do a not so good job. I been to a lot of different parks where people just did not care about the disabled people then other parks people cared about us. The possibility exists for disabled and non-disabled people to enjoy themself on the rides with some preplanning.
Six Flags had a good wheelchair access pass. However, I needed a doctor's note to get it and I thought that was so stupid because it was kind of getting into the person's private life by asking for a doctor's note, but now they have a new system for the wheelchair people called IBCCES Accessibility card. So, I would not have to show the note at the park. Once they gotten the ride access pass, I would go up the exit ramp and wait for my time to load on the ride to take off. Another thing I like is the parking lot transportation because it has a lift on it so a disabled person that is in a wheelchair can load on it to go to the park entrance from the parking lot. One thing I do not like about Six Flags is they do not have any accessible tables that a wheelchair can get under to eat at (Six Flags Over Georgia Attraction Accessibility)..
Dollywood has a good wheelchair access pass all I would have to do is to go to the accessible center to get a boarding pass that tells you how to enter the ride because some have elevators and others have ramps. Dollywood also has a calming room where the disabled person can be taken to have time to calm down with a waited blanket and sensory activity panel and a teepee. The guest with the disability must ride to use the boarding pass that was given to the disabled person (Dollywood Accessibility).
Disney World has a system where you must schedule a time to ride a ride then you will get a return time to come back and ride. Disability Access Service
DAS is intended for Guests whose disability prevents them from waiting in a conventional queue environment. This service allows Guests to schedule a return time that is comparable to the current queues wait for the given attraction. Once a return time is issued, Guests are free to enjoy other theme park offerings such as meeting a Character, grabbing a bite to eat, enjoying entertainment, or even visiting another attraction until their listed return time comes. Return times are valid until redeemed prior to park closing. Guests can only have one active return time at a time. As soon as an outstanding attraction return time is redeemed, Guests can receive a return time for the same or a different attraction. This service can be used in addition to Disney FastPass+ Service. Even though DAS is a virtual wait system guest with disabilities have their special needs and in unique situations, our Guest Relations staff will discuss special accommodations for persons who are concerned DAS doesn't meet their needs e.g., those whose disability limits the duration of their visit to the park or limits their choice of attractions (Walt Disney World Resort).
Universal Orlando has an awesome program for the disabled person they need to get a ride access pass upon entering the park. After they have gotten the pass all they have to do is go to the ride entrance and show the pass, then the host will tell them where to go to access the ride. At most of our attractions, the queue experience is an important part of telling the story of the overall attraction experience. As a result, we have made all our queues accessible to Guests using wheelchairs except for Pteranodon Flyers at Universal's Islands of Adventure. There are specific boarding requirements and accommodations for those using wheelchairs at each attraction. In all cases, if you are capable of transferring to the ride vehicle's seating (either by yourself or with the assistance of another person in your party) you may transfer. For the safety of our Guests, certain attractions contain a height requirement due to the dynamic elements in the ride system. Guests who are unable to stand independently for height verification should see an Attractions Attendant for assistance. Additionally, certain attractions can allow Guests to remain in their standard wheelchair. Universal has buses that picks you up that has a ramp and locks for the wheelchairs at your hotel and drives you over to City walk where the fun begins (UNIVERSAL ORLANDO RESORT Rider Safety; UNIVERSAL ORLANDO RESORT Rider Safety).
I hoped you understand even though I am disabled I love going to theme parks and riding the crazy roller coasters. I think when I am out in the parks, I am showing the people disabled people can enjoy theme parks as much as they do. It does not matter whether if I am disabled or not. As long I am having fun with my buddies that is all counts.
Reflection Letter
I wanted to share my point of view of how I love roller coasters. When I am on them, I feel free and wild like any other person is. I do not feel like I am in a wheelchair or I am disabled. For once I can enjoy myself if I get looked at, I am like whatever and move on.

Communicators In Action
-

six flags, dollywood, disney, roller coaster, ada, accessibilitiy, theme park, rides, universal
---