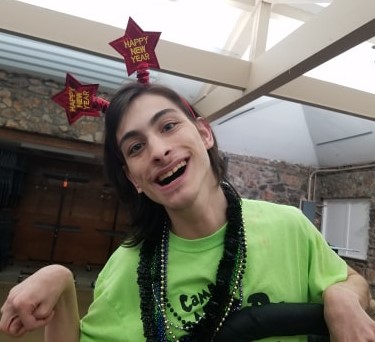 By Kyle Dinwiddie, PRC-Saltillo blogger
This past week I went to a dance. It was called a New Year's Cosmic Glow Party. I hadn't danced for a long time, and this sounded like a lot of fun. So we packed up my walker and drove to a strange, dark, and somewhat foreboding building. Come to find out that this was the place of the dance and not just a scary warehouse!
My excitement wavered a little as I entered the building. There were people of all ages running about. It was difficult to tell who were dancers and who were workers. The whole thing felt like a meet up for singles because several couples were embracing one another. One guy was even chasing a girl with the hope of a kiss.
Since it was a New Year's dance, everyone was given a hat with 2020 written on it, a horn to blow, and beads to wear. Several times, a woman blew her horn unexpectantly as she danced with her partner. And each time it would startle me. I decided to stay close to this guy who had some seriously good dance moves.
I am not sure why they called the dance a cosmic glow party. I imagined that I would be dancing under a big blacklight with glow sticks and lots of cosmic decorations, but there were no decorations and the lights were just normal. There was a DJ who played music. I thought that was cool; although, the music was mostly slow songs. When he did play an upbeat one, it would be a country tune, which caused the crowd to go crazy. Everyone would squeeze onto the dance floor and begin to sing the song loudly. But most of them were love songs geared towards the couples. Yuk! Not fun, if you're a single guy like me that likes to dance to a tune with a great beat. I usually dance to Party in the USA by Miley Cyrus or Uptown Funk by Bruno Mars. But instead, I was trying to dance to love songs like Perfect by Ed Sheeran.
As I continued to dance, some people noticed my awesome dance moves. And after getting and eating a delicious cupcake. They came over to talk to me. They were amazed by my communication device, and we talked a while. Then before I knew it, people were cleaning up. It was time to go. What! So soon? I was shocked by how the dance ended. They handed out snacks and...POOF...no more music. Since everyone was leaving, we did as well.
I had a wonderful time even if it wasn't what I thought. It seems like many times things aren't what we expect, but that doesn't mean these things can't be enjoyable. It is all about how we choose to look at it.
This is Life with Kyle and I will talk to you next week

Life with Kyle
-

party, new year's eve, dance, expectations, AAC
---