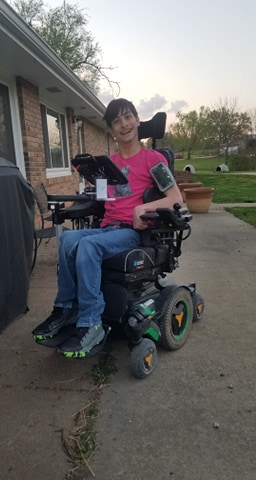 By Kyle Dinwiddie, PRC-Saltillo Blogger
One day my dad and I were sitting on our outside swing talking and enjoying a peaceful evening. We could see our neighbor's calves calmly grazing in the pasture to our left. Some were off in the field walking around; and many were simply laying in the grass. I was showing my dad how my Accent 1000 could make animal sounds. I am not sure how PRC makes these sounds, but they are amazing! They completely nailed the farm animals.
I pressed the cow sound, and all of a sudden the neighbor's cows began mooing back. The cows started running to the fence from all across the pasture and stared at us. My dad turned to look and I turned my power chair. Now all of the cows were at the fence, looking for another cow. We chuckled at the sight and I pressed the button again. I gasped at what happened next. One of the cows actually jumped up on her back hooves and put her front hooves over the fence!
All of the cows were watching us when we decided that we should go back in our house before we started a stampede. As an AAC or communication device user, it can be extremely difficult to fully express ourselves at times. But I'm talking to the users when I say make your communication device ''yours''. Ask the person who brought this machine to you to help make it the way that you want. You can change the icons or try a different voice, but never give up. It truly is your voice. You can talk to your parents, bark with the dog, or moo at a cow. But the power of speech is at your fingertips or toe-tips or eyes etc.
This is Life with Kyle and I will talk to you next week.
There are no comments yet. Be the first to post!
---
You must be logged in to post.

Life with Kyle
-

Kyle, cows, communication, animals, moo
---