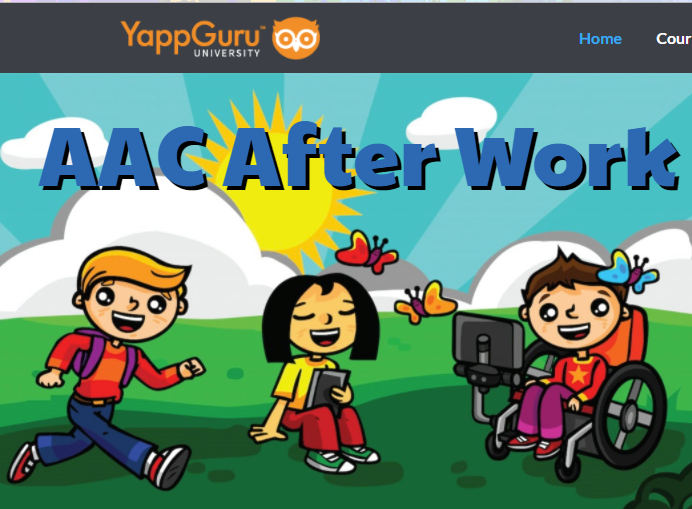 _ Jane Odom, M. Ed, Director of Implementation Resources_
Last night, I was lucky enough to have been invited to speak on the AAC Language Lab for YappGuru.. This site has a multitude of information regarding using Apps in education as well as the new YappGuruU where you can learn all about a variety of topics!
I decided to show how easy it is to scaffold materials from the AAC Language Lab for use with any cognitive level, language level or device. A recording of this one hour class can be found at AAC After Work. This was a nice way to connect with professionals in an easy, format. Folks could take all the classes from the comfort of their own home. I didn't even have to wear shoes!
I promised to answer some of the questions we did not have time for last night in a blog post today.
We showed a tool called the AAC Language Screener. This link will take you to the downloadable file. You will need to subscribe to the site to access this tool. Did I mention we just lowered the price to $19.99?
We showed a tool that allowed the teacher to project the device emulator onto a smart board. She was able to then use the software to not only model for the student using AAC, but also as a teaching tool for writing and literacy.
PASS can be used with all PRC language systems including Unity and Words for Life.

Chat Editor is for use with all Saltillo devices.
Some asked about the software I suggested to run Windows programs on your Mac. Parallels
Someone asked about what University Programs specializing in Assistive Technology. I found a nice list on the RESNA website
When just starting out with a new student, I suggest using the Free Core Word Starter Set on the AAC Language Lab site. For this set of lessons, a starter set of 20 common words are used.
The Language Lab has content for Young Adults to also get you started if working with older students. The materials are more age appropriate with realistic graphics instead of cartoons. All materials on the Lab are in PDF format so can be downloaded and used with any system, phone, tablet or computer. All materials can also be printed out. There are a variety of activities within each lesson plan and often multiple lessons for the different language objectives. When working with unmotivated students who are difficult to engage, you can easily choose games and activities that are sure to motivate even the most reluctant learner.
We had quite a few questions regarding the Realize Language system for data collection. Here are some links to help get you started.
If you have any additional questions, simply send a message to support@realizelanguage.com
New blogs are posted every week on the AAC Language Lab. We have all previous blogs archived on the site on a variety of really useful topics. This is a free section of the Lab so take a peek! Click here to view Stories and Strategies for Success. You may also want to read some of the amazing articles by our Communicators in Action crew
Thanks again for attending my presentation. If you missed it, you can still view the recorded session on the Yapp Guru site.

News
---