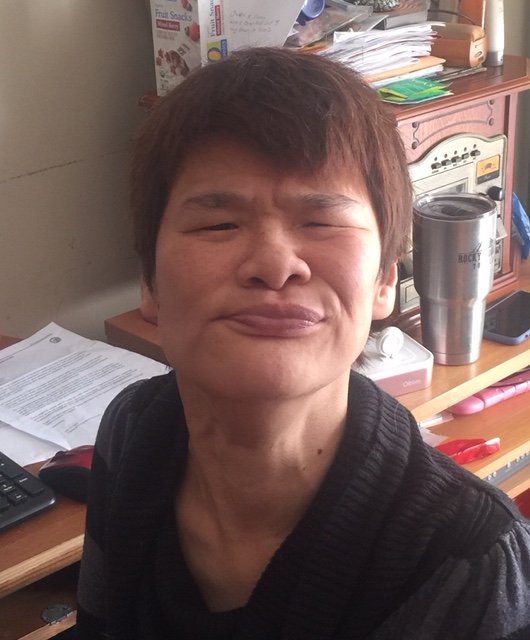 By Kim Vuong, PRC-Saltillo Blogger
For some people, getting back to normal after two years of pandemic isolation means returning to work in the office again, going out to dinner, going to concerts or attending sports events. I like all those things too, but for me, what really matters is that I get to go to an AAC conference, and I get to do presentations again, which I really missed.
The pandemic has been especially tough on people with disabilities who were accustomed to being active in their communities. We take pride in being able to make a difference and show that physical limitations won't stop us from having an impact. But while COVID-19 isn't yet completely gone, we're learning how to live with the situation and get back to doing things that are important.
In March I attended the California Beach Association and Hearing Association conference in Pasadena, and served as the ambassador for Prentke Romich Company (PRC) at the Exhibit Hall. We have all new representatives for California so I was the only PRC person who had been there the longest for PRC.
In the beginning of April I started going to do presentations again at schools. My friend Deaka and I both presented at an elementary school in Long Beach for the fourth and fifth graders. It was an awesome experience. When I talk to the kids, I remember what it was like for me when I was their age, and all the things that I had to overcome. It feels good to realize how far I've come since then.
Life is pretty busy these days, and I find that I have to mix business and pleasure. Last weekend, for example, I went to Arizona with my boyfriend to watch Spring training for baseball. On the way back home I had a Grassroots Zoom meeting. I was in a bit of a panic as I had to be home in time for my Life skills training class I teach for my work over Zoom. I made it with an hour to spare.
But that was just the start. The next day, I did the presentations at the elementary school. The following day I did a presentation at Long Beach State. I couldn't have done it without my Accent 800.
I would like to have the option to go back in person instead of having a virtual meeting, but the virtual option has its advantages too, especially for a person with disabilities. With virtual meetings, we don't have to rely on transportation to get us to the various meetings and events. How many times has transportation failed to pick us up on time, or sometimes not at all? Due to having transportation issues I have gotten to appointments late.
Also, virtual meetings reduce the risk of getting COVID-19. But I miss the personal interaction with people. I hope that I have the option to do both in-person and virtual events in the future.
There are no comments yet. Be the first to post!
---
You must be logged in to post.

Communicators In Action
-

employment, covid, aac, virtual, work,
---