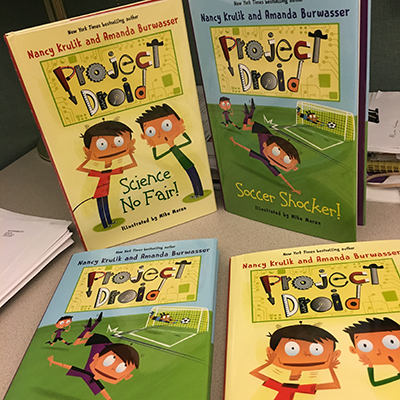 By Mike Moran - Illustrator
Have you ever wanted something really badly and then once you got it, it wasn't quite like you expected it to be? Well that's kind of what happens to the main character Logan in the Project Droid series. This new group of stories is illustrated by me, Mike Moran, a guy who draws funny pictures for a living, lives in NJ, is married and has two sons.
These books are written by the dynamic duo, mother and daughter team of Nancy Krulik (also known as a NY Times best selling author) and Amanda Burwasser, Published by Sky Pony Press, and were just released in September of 2016.
Okay, so back to the story line of "Science No Fair!" The main character Logan Applebaum always wanted to have a brother, so his inventor mom created a robot cousin named Java, and he is really excited about it. Java is incredibly smart because he has a computer for a brain, but that can also get him into trouble making it hard for Logan to keep his identity a secret at school. Things become even more complicated as the students begin to compete in the third grade science fair. Logan thinks his computerized cousin is the perfect match to help him work on his project. This way he hopes to defeat the sneaky Silverspoon twins at the fair. The Silverspoons have their own plans about working with Java and winning and this is when the real craziness begins!
The second project Droid book is titled "Soccer Shocker!" The fun still continues in this second book as Java joins Logan's soccer team the Purple Wombats. Java is programed to be a scoring machine and replaces Logan as the top scorer. When Java gets wet, he short-circuits and once again, trouble begins.
I created all of the art in Adobe Illustrator and Photoshop. And as I type, I'm getting ready to work on the third book. You can look to pick up copies of these books at your local independent book stores or on line. To see more of my work please go to Mike Moran. Also be sure to check out Nancy Krulik's website.

News
---