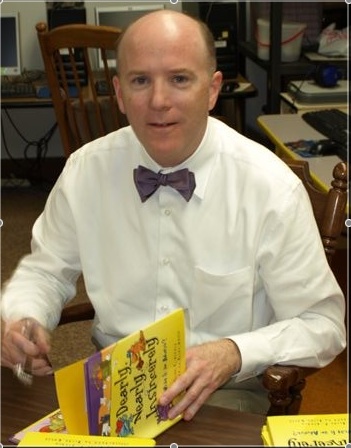 By Brian P. Cleary
Brian P. Cleary
Even though I hated school, I didn't hate learning.
As a little one, I fell hard for the sing-songy rhythmic patterns of Dr. Seuss. Cat in the Hat, Green Eggs and Ham, and the rest were my introduction to the wonder of words.
I had a couple of teachers in grade school when I was about 8-9 who were into poetry, and so I was introduced to more magic. By changing the final word in this piece, I saw that I could participate in language, it wasn't a fully developed, final product; it was changeable. By me…
The Panther by Ogden Nash:
The panther is like a leopard except it hasn't been peppered.
If you should see a panther crouch, prepare to say OUCH!
Better yet, if called by a panther,
don't anther.
It's hard to believe, but when I was 10 or so, the heavyweight champion of the world recited original poetry. Muhammad Ali added these to my inspirational stew:
Float like a butterfly, sting like a bee. I learned about poetry, boxing and similes all from these 8 words.
You may talk about Sweden, you may talk about Rome,
but Rockville Center's Floyd Patterson's home.
A lot of people said that Floyd couldn't fight,
but you should have seen him on the comeback night.
Muhammad Ali
Next was popular music. You couldn't have gone from being 1 to being 10 in the 1960s (as I did) without being influenced by the Beatles. I loved their sense of meter, word choice, and rhyme, and I also learned that the beautiful didn't have to be overly complicated:
Who knows how long I've loved you?
You know I love you still
Will I wait a lonely life time If you want me to I will
For if I ever saw you
I didn't catch your name
But it never really mattered
I will always feel the same…
Musical Movies and Plays
From West Side Story to The Music Man, to Fiddler on the Roof, I was very aware of this music, which I heard mostly around the house on the "hi-fi". I remember being tickled by these funny lyrics from a Marx Brothers movie:
Oooooooh
Lydia oh Lydia, say have you met Lydia,
Lydia, the Tattooed Lady.
She has eyes that folks adore so,
And a torso even more so.
Lydia oh Lydia, that encyclopidia,
Oh Lydia the Queen of Tattoo.
On her back is the Battle of Waterloo.
Beside it the wreck of the Hesperus, too.
And proudly above waves the Red, White, and Blue,
You can learn a lot from Lydia.
-Mad Magazine:
Nearly every 4th grade male in my day was at least an occasional reader of Mad. I loved the parodies where they swapped out the real lyrics for funny ones:
(sung to the tune of Bicycle Built for Two)
Charley, Charley, We'll lead the gang right through,
On your Harley Down Central Avenue
We'll tear up the town till sundown
Old ladies we will run down
And we won't stop
For no dumb cop on our Harley that's built for two.
-Your Own Joke Book
I bought the above-mentioned book when I was 10. It was packed with corny jokes, awful puns, and even a handful of macabre poems like this one:
Little Willie
Little Willie went to the mirror and sucked the mercury off
Thinking in his childish error it would cure his whooping cough.
At his funeral his mother smartly said to Mrs. Brown,
"'twas a chilly day for Willie When the mercury went down!"
So I set out to make learning more enjoyable and more empowering. I hope, to at least a small degree, I've done that.
Brian P. Cleary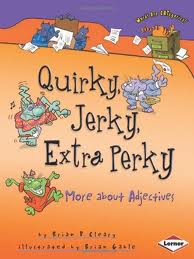 Quick, Jerky and Extra Perky
There are no comments yet. Be the first to post!
---
You must be logged in to post.

Stories and Strategies fo...
---