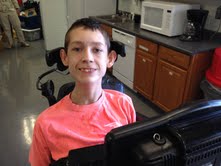 By Charles "Chase" Sanders
Chase
I am so smart and nice. I am awesome.
I am spiritual but, not so spiritual. I am OCD. I like race cars and Alabama football. My favorite color is green. I like playing with my device, the Eco14. I am not sure when I am getting my new device. It is called the Eco2.
I like Supernatural on TV. I like music very much. I like science.
I am very good at making things up. I am the best teen device user in all of the United States of America. I pickup things really fast. I am high-tech.
I am happy all time but I don't show it. I am Native American and Irish,Scottish,and English.
I am 19 years old. My birthday is December 14th, 1994. I am a little classy. My muscles they are tight but, not too tight.
I have three brothers and one sister. I like country music. My dad is a doctor at the VA Hospital. It is a part of the UAB Hospital.
I like wolves. I think I like a girl.
I like AC\DC, Gun & Roses, and Elvis songs. I like school. I like cars,but not the movie cars. I like computers. I like Iron Man.
I was born in the year of the dog. I have a feeling about my family. They have a family secret about my family they didn't tell me. I am going to find out as soon as I get Eco2 ASAP.

Communicators In Action
---