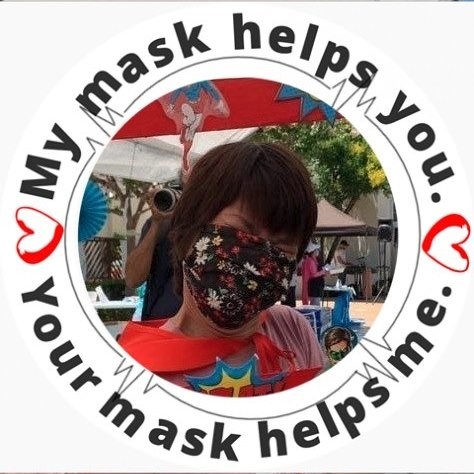 By Kim Vuong, PRC-Saltillo Blogger
It's important for everyone—including people with disabilities--to wear a mask while we're trying to get COVID-19 under control. But as a person with cerebral palsy, I find that wearing a mask can make it even more of a challenge to communicate verbally.
Fortunately, I have a communication device that helps me to cope with this problem.
I saw how important the device is last Friday, when I had to go into work and I forgot to take my communication device with me. I had to talk to one of my co-workers and it was difficult. She couldn't understand me because I had my mask on. I had to use my phone on my Note app to talk with her. It was difficult and I didn't like it.
I learned my lesson from that experience. Now, I always make sure I have my device with me!
Wearing a mask is essential, because it can protect both you and the people you are with. According to the U.S. Centers for Disease Control and Prevention, COVID-19 spreads person-to-person mostly through viral particles riding on respiratory droplets, which are released into the air when an infected person exhales, coughs, sneezes, shouts or sings. Masks are a simple barrier to help prevent your respiratory droplets from reaching others. Studies show that masks reduce the spray of droplets when worn over the nose and mouth, but they also provide some protection against inhaling droplets released by others.
Masks are especially important for people with disabilities, because we aren't always able to maintain six feet of distance from other people. Many of us have mobility problems, and others need help in performing their daily living activities and have to rely upon personal care attendants. Those workers are vulnerable, and so are we. It's also important to remember that many disabled people also are coping with other chronic health problems, which may make us more vulnerable to becoming seriously ill if we become infected.
As the holidays come we need to be more cautious about wearing masks and social distancing.
Sources:
CDC latest advice on masks
https://www.cdc.gov/coronavirus/2019-ncov/more/masking-science-sars-cov2.html
CDC "Disability and Health Related Conditions."
https://www.cdc.gov/ncbddd/disabilityandhealth/relatedconditions.html
There are no comments yet. Be the first to post!
---
You must be logged in to post.

Communicators In Action
-

covid, mask, safety, disability, communication, centers for disease control
---