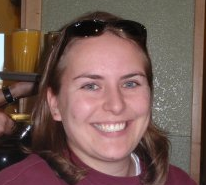 By Sarah Williams, classroom teacher
Some of the realities of teaching in a K-1 (in reality Pre-4th grade), self-contained classroom for students with intellectual disabilities are as follows:
Communication is extremely important: receptive and expressive communication from students, communication with parents, communication with staff in the classroom, communication with therapists, and communication with school staff members not in the classroom.
In a school setting, I must teach academics. Having a background as a Music Therapist prior to being a Special Education teacher just makes it that much more fun to fill my days with both academics and therapeutic activities all day long, every day.
Though my vision is to be that amazing teacher that is able to help students achieve each and every goal created by the therapists and myself, I cannot do it alone. I need the help of every one of my classroom assistants in order to make student achievement possible.
Some days are tough. Some days I count the hours until the end of the day. Though it's not always easy, seeing my students grow and achieve is one of the greatest gifts a teacher could receive and every day I am able to name something incredible that happened with my students.
When I began my career as a Music therapist, one of my first questions to parents would not be about what type of music the child liked but rather how they communicated and if they had any type of communication device. I would often get crazy looks because I was not the Speech Therapist, I was there for Music Therapy. However, more often than not, parents would be thrilled that I was also willing to work to help their child learn to communicate more effectively.
The same has been true of my experience in a classroom setting. I am so excited every time I have a student that uses AAC. I have come to know the devices and programs quite well over the past few years and take pride in being able to share AAC success with Speech therapists even when it is not a "Speech Day". Is it more challenging to lesson plan and figure out how to incorporate AAC throughout the school day? Sure. But the reality is that teachers play such a critical role in the development in a child's language and communication learning, how can I not make AAC an integral part of my classroom?
During my first couple of years in the classroom, I sought out the help of our district Assistive Technology guru who also introduced me to a "Speech Therapist friend". These two fabulous ladies helped me learn more about AAC and how to incorporate it into the school day in meaningful ways. After reviewing a few different resources about the stages of language development, together we came up with a quick and easy screener to figure out where students were within the stages of language learning and how to elevate them to the next level.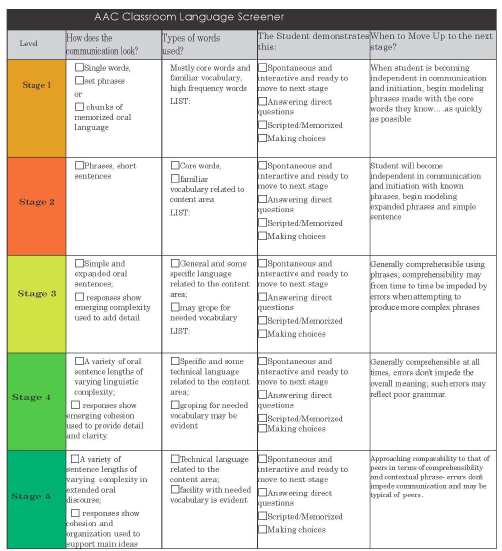 This screener was given to each of my classroom assistants to complete, a couple of therapists completed the screeners, and I, myself, completed the screeners as well. What was very interesting to us all was that our results for each student were very similar if not identical. Using this screener and a data sheet paired with a few fun activities (tactile animal cards, farm play set, baby doll, dress-up bear) yielded the results of increased AAC use, increased verbal language, decreased frustration behaviors, and increased confidence among my classroom assistants that they also had the knowledge and the power to help my students learn such a critical skill.
Though AAC is not always used the way I envision it to be used in my classroom every day, the reality is that every time I get on track, every time I have my classroom assistants on my side modeling and encouraging the use of AAC with and for students, I see progress. No, I'm not the speech therapist, but I do know that communication is perhaps the most important thing that every student in my classroom needs to learn and I feel that it is also my job to help my students progress toward effective communication.
Using the tools and resources that are "out there", getting everyone in my classroom on board with using AAC, and celebrating every student communication success with the student, classroom staff, parents, and other therapists is the way that I have seen communication improve and flourish in my classroom.

Stories and Strategies fo...
---