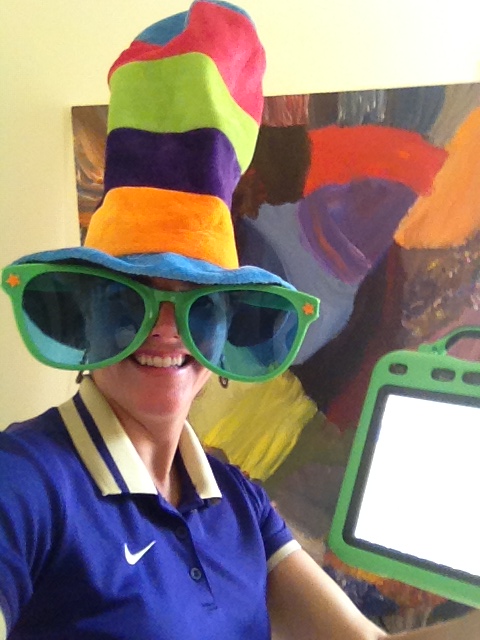 By Jennifer Herzog, B.S., PRC Regional Consultant
Hello from Arkansas and western Tennessee! I'm Jennifer Herzog, the Regional Consultant in the mid-south and have worked for PRC for four years.
Before and during my years at PRC, I have routinely found myself helping people learn to do something. Through my experience, I have found that making leaning fun is the best way to engage people, create a positive atmosphere, and set the stage for success.
My passion outside of work is coaching 7th through 9th grade volleyball. I have often found that running fun drills like Hot Potato and Family Feud that don't seem to be "drill and kill," can actually increase individual skills on the court that translate to the big game without the players even realizing it.
Learning to communicate should be the same! Let's have fun with words as language develops on a device, and the child will be more apt to rely on that device for communication in the future.
Case in point: I recently worked with a teenager with Autism who is completely non-verbal and had no way to communicate. I should probably add that he was twice my size, and the look on his face told me I had one chance, and that I was all I was going to get. So, out came my BIG hat and BIG glasses, and a set of little ones, too! Using tools such as Vocabulary Builder that we have at our fingertips on a PRC device, I hid everything but words like on, off, big, and little. I started by saying "on" using the device, and I put "on" the little glasses. My friend was willing to try, so he said "on" using the device. I asked him which glasses I should put on, and pointed to the big and little options on the screen. Using the device, he said, "big," and on went my big glasses! Notice I allowed him to steer the activity and tell me what he wanted me to do. He repeated "on" and "big," which prompted me to put on my big hat.
Jennifer wearing a big hat and glasses.
I took off the big hat and big glasses and asked him what we should do next. He again said, "on" followed by "big" at which point, I put the big hat on him! Unprompted, he went right back to the device and repeated "on" and "big," and true to form, I put the big glasses on him. What came next was unbelievable to me. A low chuckle erupted from him realizing that he was wearing the ridiculous hat and glasses. The teacher grabbed a mirror so he could see himself. Through that method of play, he learned two words which I would soon translate into a different situation, and he was going to the device on his own, unprompted, to tell us more.
We may have only started with a "little" list of powerful words "on" the device but quickly found we should set our sights "on" the "big" goals we should have for this young man! He had no intentions of turning "off" the device. He was having fun with words!!
There are no comments yet. Be the first to post!
---
You must be logged in to post.

Stories and Strategies fo...
---