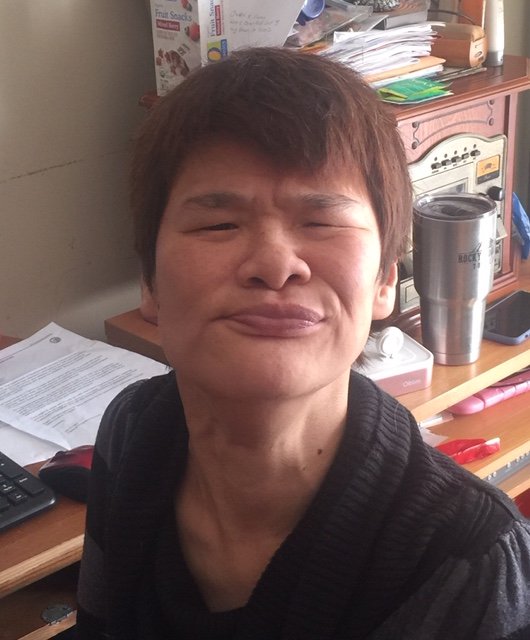 By Kim Vuong, PRC-Saltillo Blogger
Hi there. My name is Kim Vuong, and I'm from Long Beach, Calif. Some of you know me already from my role as an ambassador for PRC, which I've been doing for the past 10 years. I've written blogs for AAC in the past, but now I'm going to be doing it on a more regular basis. I'm very excited about that opportunity.
As a blogger, I often write about disability activism and the importance of people with disabilities becoming advocates for themselves and others. I'm interested in this subject, because my own experiences in life have compelled me to speak out and be proactive.
I'm a native of Vietnam who came to the U.S. as a child, and I have cerebral palsy, which sometimes makes it a challenge for me to do things that others take for granted, whether it's walking on the beach or speaking to a group. Nevertheless, I was able to go to college, where I earned an associate degree in women's studies. I have worked for the past eight years as a speech aide at the Tichenor Orthopedic Clinic in Long Beach, where I also have worked with a colleague to develop a life skills class for teenagers with disabilities, so that they can become more self-sufficient and self-reliant.
In addition to my career, I've become a member of the citizens' advisory commission on disabilities in the city of Long Beach, where I've advocated for policies such as installing beach mats to enable people with mobility issues to use our beaches.
Last August, I was honored to receive the Disabled Resources Center's Jerry Stein Memorial Independent Living Award, which recognizes volunteer and professional achievement and promotes awareness of the achievements of people with disabilities. I was looking forward to the banquet, but because of the pandemic, the event was switched to virtual. I still got an opportunity to give an acceptance speech, and used an Accent device to assist me.
Here are some excerpts from my speech:
This award stands for all the things that I believe in and fight for every day to be more independent. I believe that all disable people should have the resources and tools available to work towards live independently.
For many years, I've worked hard to build a career and achieve my dream of being in a position where I could help others with disabilities. I found that the best way to achieve my professional aspirations was to start as a volunteer. I know that some people might not believe that volunteering will lead to getting a job, but I found that it enabled me to show what I was capable of doing, and that I was willing to work hard and learn what I needed to succeed.
That's why my advice to people with disabilities who look for a job volunteer first. This way, you open yourself up to possibilities you never knew were there or that you were capable of.
But for a disabled person to succeed, it's especially important to have someone who's willing to believe in your potential, despite the challenges you face. I'd like to thank the Tichenor Clinic for giving me the opportunity to show my skills and to Lori DeLaney for giving me the opportunity to grow with Tichenor and in valuing my input on programs for helping out children grow.
Anyway, I'm eager to share my thoughts with you in the months ahead, and to discuss some of the issues that I'm involved in, as well as my everyday life and how I use assistive technology. I hope you'll comment on my posts and even offer suggestions for subjects I should write about.
There are no comments yet. Be the first to post!
---
You must be logged in to post.

Communicators In Action
-

vietnam, biography, speech, aac, language, communication, prc, saltillo, blogger
---