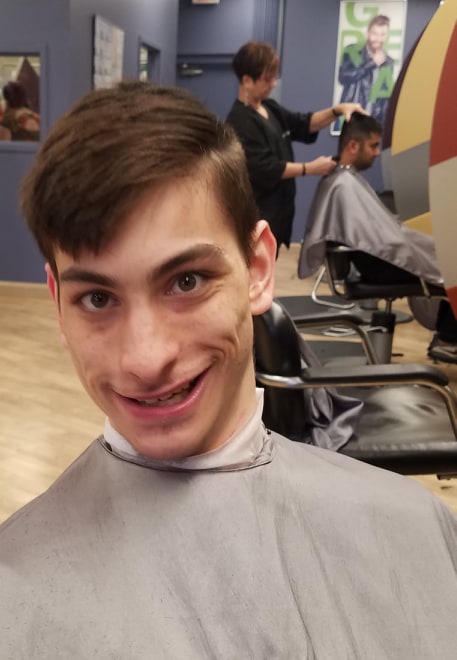 By Kyle Dinwiddie, PRC-Saltillo Blogger
In 2019, I decided to grow my hair out long. Actually I had long hair once before, and my mom said she liked it. But then I slowly got sick of it and cut my hair. Since then I have kept my hairstyle the same length up until my late teens. When I was nineteen, I wanted the long hair back because I had a friend who had long, flowing hair. I admired this friend and tried to grow my hair as long as his hair. He looked great with long hair.
As you probably already know, I had spinal surgery last August, and had to wear a neck collar for several months. When they took the neck collar off my hair was pretty long. The hair was down to my neck! But I liked it. My mom had put it up in a man bun, and I also liked that. Pulling my hair back to make the bun began to hurt me so, SO bad, but it looked very good. Most of my friends and my dad said that it made me look older. I ate the attention up and kept growing my hair despite the hard work of styling it every day.
After awhile, I slowly got sick of the bun, and then my hair was always in my eyes. I didn't know what to do. It seemed like my hair was in my eyes most of the time, and that drove me crazy. It also drove my mom crazy to see me flicking my hair away from my eyes. At the same time people said it looked very good, and that kept me going. My huge hair then reached my shoulders. I started wearing barrettes in my hair. But in the end, my beautiful hair was too much for me. I got hot really quick and it caused my eyes and ears to itch.
Then my friend that had inspired the long hair totally chopped his hair off and looked really good. Yet again I wanted to look like him, AND besides I was getting tired of my high maintenance hair. So my parents drove me to a barber where I breathed a sigh of relief as the barber began clipping. I actually had my older brother next to me, having his own hair cut.
It didn't take a long time before the barber turned me to look in the mirror to see what she had created. And my freshly cut hair looked way better than how it did before.
Sometimes things that we are proud of can become a problem. We try to hold on to old traditions and the past all because we think they make us look very good. And sometimes we even hold onto secrets which we're ashamed about and we try to hold in. The secrets can grow wildly and uncontrollably, just like my hair. But once you tell someone about your secret, you chop it off. As Christians, we should tell God about our sins, and then confess it a close trusted friend. We sometimes skip the step of telling others and instead we don't feel right about ourselves. We keep carrying it. The sin is still there, hidden inside us. Tell people about it! Be honest with people and don't let it drive you crazy. This is Life with Kyle and I will talk to you next week.

Life with Kyle
-

hair cut, life, AAC, expectations
---