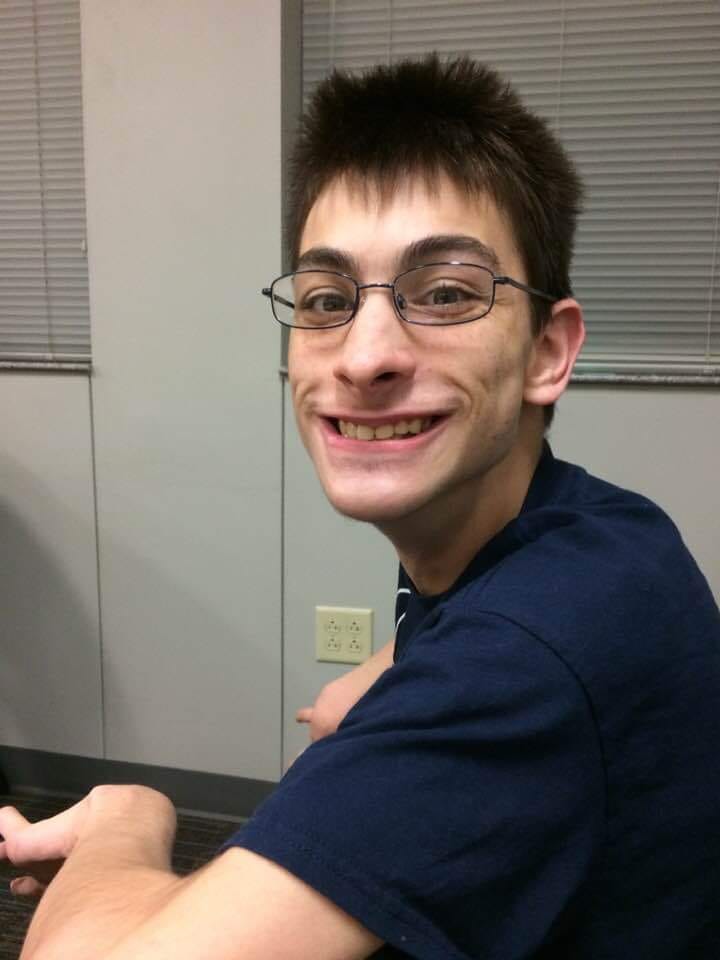 By Kyle Dinwiddie, PRC-Saltillo Blogger
I would like to tell you about my brother, Cameron. Even though he is seven years older than me, you'd never guess it. Our relationship is like most brothers. And like most good brothers, Cameron includes me in all kinds of things. He takes me to Starbucks, to the movies, to the library, and lots of other places. I enjoy spending time with my brother. However, there are times when he drives me crazy and frustrates me, but there are times when I drive him crazy as well.
Cameron is very creative. He is a talented musician that can play the piano, the drums, and guitar. He likes different styles of music. Cameron is also a writer. In high school, his poems won first place. Plus, Cameron likes to perform and has been in several plays. He was Seymour in Little Shop of Horrors where he sang and did an awesome job.
When he was younger he would make little videos using my parent's old VHS camcorder. He would recruit various people and props such as the neighbor boy, church friends, my dad, the cat, a doll, and even me for his videos. He liked making them and we liked watching them.
It was hard when Cameron went away to college, because I wasn't used to him being gone. I remember that I just waited, and waited and waited for him to come home. Finally around Christmas time, he came home. It was so wonderful having him back home again. I had missed him so much.
My brother's passion for movie-making didn't stop because of college. He continued his passion and started buying different camera stuff where he could make pictures and videos. But these were even better!
In college he wrote and directed his first movie called "DeFeathered." Then later he produced a second film called "Antychiphobia" where he casted his tarantula he called Mary Jane. She lived in a glass box in his dorm, but soon Mary Jane found a new home. . .my room. Can you imagine having a big hairy spider for a pet? Usually whenever you see a big spider in your house, you smash it, call an exterminator, or just move out. But not me, I had to sleep next to a giant one. Oh by the way, the movie that starred Ms. Mary Jane was very deep and meaningful with a hidden message. She did a great performance !
While Cameron was away at school, I wrote a story that I hoped Cameron would make into a movie. It was about a boy who learns karate to help him deal with bullies. It was called "the Little Fighter." I was thrilled when Cameron agreed to do it. I included my dad in the script. Oh by the way, my dad did a very believable job acting as my dad in the movie. Even though my movie was pretty goofy, I enjoyed working with my brother in the making of it.
The summer after Cameron graduated from college, he made another movie called "Battered Up." This time he hired actors to star in it. He filmed it on our property. Also, Cameron made and wore his own big foot costume. Since then Cameron has made multiple films.
As my brother makes plans for his next career move, he designs and makes video ads for different companies. But when he is not doing that, Cameron will get an idea, a spark of pure genius, about a random video where often times I am the featured character. One time he made a cool music video with me dancing in it. He even dragged my dad in that one!
Our relationship reminds me a lot of the cartoon series called Phineas and Ferb. The show is about two brothers who build awesome stuff while on summer break. Phineas is the creative genius one, and Ferb is the quiet apprentice. Cameron is like the creative genius and I am the quiet apprentice willing to help out with anything he makes. And like Ferb I am SO blessed that I have a brother who is talented in what he does. I hope to do many more exciting things with him in the future.
Maybe one day he could make some of my books into full length movies. And if so, LOOK OUT Stephen Spielberg!
This is Life with Kyle and I will talk to you next week.
There are no comments yet. Be the first to post!
---
You must be logged in to post.

Life with Kyle
-

family, brother, aac, music, film, video
---