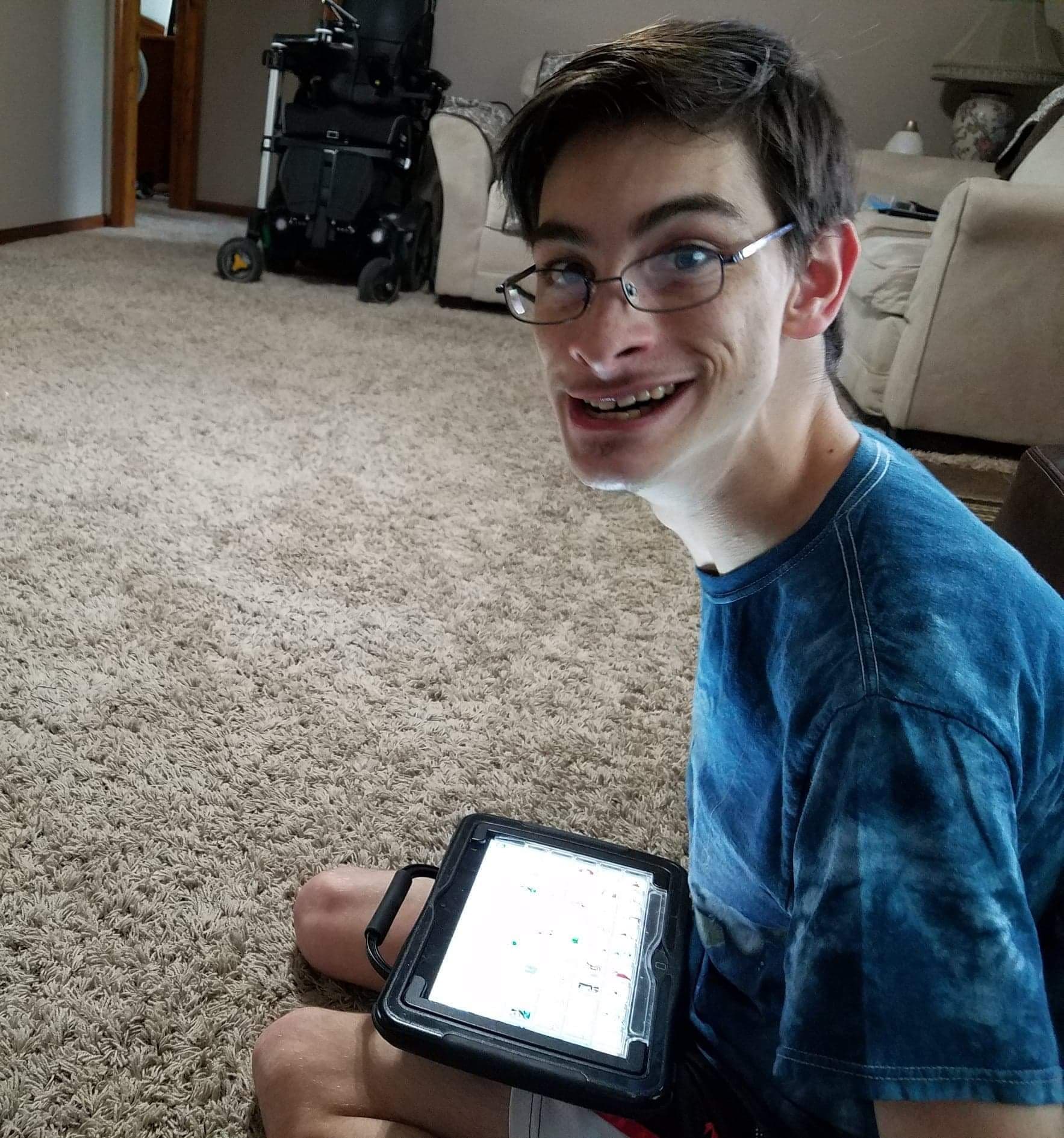 By Kyle Dinwiddie, PRC-Saltillo Blogger
Life without a way to communicate is very difficult. Communication devices are such a blessing and have opened the world for so many, including myself. My first device was the Vanguard II. In the beginning I did not use it to communicate, but only to write stories. One day I discovered that I could talk using the vanguard and I have not stopped talking since.
When my brother went to college, I missed him so much. I tried calling my brother on our cell phone and brought the Vanguard close to the phone. But he didn't hear me clearly. We tried to have it on speakerphone, but he still couldn't hear me. Also, my parents wanted a reliable way for me to call for help in an emergency. Later, Michelle Wheeler from Missouri Assistive Technology told us about the Accent 1000 and how it could Bluetooth to a phone. Our insurance declined it two times, saying it was not medically necessary. We kept trying, and finally, our insurance agreed to cover it with a copay.
At first, I wanted absolutely nothing to do with the new device. The buttons were different and I could not find the icons I had become familiar with on the vanguard. I didn't like the Accent; I liked my vanguard. But my parents said that they could hear its voice clearer than the Vanguard's. Time passed and I slowly fell in love with my Accent. I was going to our church youth group at the time and I used to kick the Vanguard with my knees across the floor because I couldn't carry it. The Accent was so lightweight and it had a handle on top. My mom bought an older simple flip phone and blue-toothed it to my Accent. Then I had the power to call someone and listen to the songs like ''A Horse with No Name'' by America on the phone. When my parents were working, I jammed out to that song a lot. But we kept losing the Bluetooth connection between the flip phone and my Accent.
So, with my Accent, we went to an AT&T store and asked the worker for some help. We tried every phone in the entire store only to find that my Accent could make phone calls with any of them, but you couldn't make text to voice messages over the phones. Finally, we found one that you could make text messages with my Accent. It was the most expensive phone in the store at the time. It was the Samsung Galaxy S7. My mom didn't think that I would use it much, but she bought it for me so that I could text and call over my accent. My dad was so jealous of me getting the expensive phone that he bought one just for himself. Since then I have proven my mom wrong by using my Samsung Galaxy every single day with Facebook, Instagram, and Snapchat. Not mentioning the games.
My life has changed because of my Accent 1000. Today I have to bring it everywhere I go. I can call to order for a pizza or go out and tell our waitress what I want. Two summers in a row, I went by myself to a camp and made some friends. All of the thanks go to my Accent 1000 for giving me a voice. This is Life with Kyle and I will talk to you next week.
There are no comments yet. Be the first to post!
---
You must be logged in to post.

Life with Kyle
-

accent, vanguard, communication, cell phone, galaxy, texting, phone
---