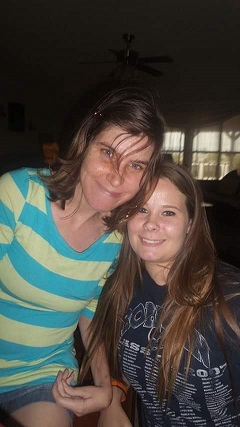 By Krista Howard, PRC Ambassador
It is Krista Howard again. I am an AAC user. I am an ASU student. I am a 29 year old single mom to a amazing son named Michael.
This blog is going to discuss how to make friends and keep them while using an AAC device. I feel that close friendships are key to have extra support in life. If you don't have any sisters and relationships with your female cousins like me, it is hard to have support.
Krista & Ashley
I have 2 best friends that sometimes tag team to help me out. They are like my sisters honestly. They are like older sisters that teach me more and more. So I love them for it!!
Ashley helps and teaches me to put on my makeup and makes sure I clean my face after I drool. Ashley, picks me up and takes me home on her way home? I can stay with her after a party? She makes sure I know who is picking me and Michael up? She tell people that I need this and that do they mind helping out?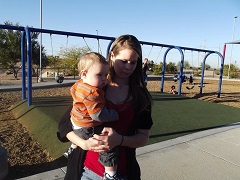 Ashley & Michael
But it is hard to make friends. I am so lucky that my best friend Desiree and I became friends in 11th grade because I started talking to her in sign language and on my device. Ashely was my childhood best friend now she is my cousin in law. Yea! I am like family, I am lucky.
My boyfriend/best friend has amazing, supportive friends also. They will helping us to have a supportive life. Friends come and go in my life but I will not give up and get down about using AAC.
People with Disabilities must able to make friendships that last forever and help us self-advocate if we need to. My best friend knows me, what my needs are and helps me get me out of the house and be an auntie to our children together. Both of them are helping me to raise my son. They love him like a nephew and he loves them!!! It is like having free babysitters!
The earlier you learn social skills with your device, the better your social status will be. Friendships start with communication and you have to communicate with other people. It is a slow process, but in the end, it is going give you successful, happy friendships like mine .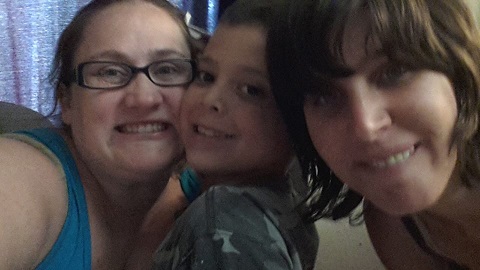 Desiree & Krista
I learned how keep friends and make their future better. Teachers need to start peer mentoring programs with their students who are AAC users. Life with an AAC device can be hard sometimes but with right knowledge, you can have a great social and a successful life.
For instance, I am starting go a small group at my church with people around my age. I hope that I am making good friends with them. I am going to use my device to talk them all of the time in my small group. The leader's sons are around my son's age. That would be great for both of us.
Sometimes, it hard because people don't want to hang out with me and start a friendship with me. AAC users can feel really down because nobody wants to have a social time with people who use something to help us talk. The peers needs some basic interaction skills, and some basic knowledge about the AAC system and how it works.
This why AAC device is very important in early years so an AAC user can learn to use their device. They can connect with their classmates and have long forever friendships like me.
There are no comments yet. Be the first to post!
---
You must be logged in to post.

Communicators In Action
---