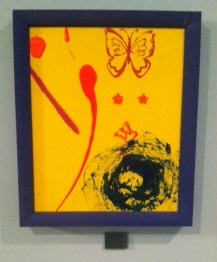 by Kyleigh Kramlich
Kyleigh's Painting
My name is Kyleigh. I am 11 years old. I love art because it is fun for me.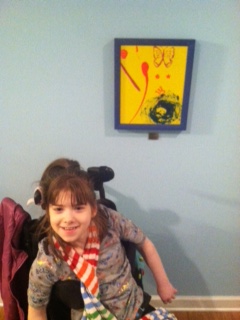 Kyleigh
I have drawn a candy cane and I have drawn blue people. I do my drawing with my head switch on my communication device. It is hard work, but it is awesome.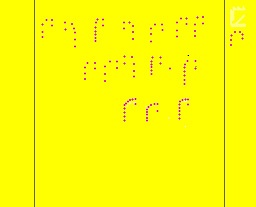 Candy Cane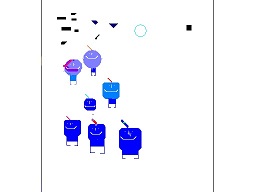 Blue People
A 2nd kind of art is listening art. I did this at camp when I was 5 years old. A listener asked me questions and painted what I said. My art turned out pretty.
I got a headpointer for Christmas. I think I might like it. I want to draw a cat with paints. I might try drawing with colored pencils or crayons too. I could make a canvas painting of the outside.
Art is my favorite thing to do. I hope you will try it too.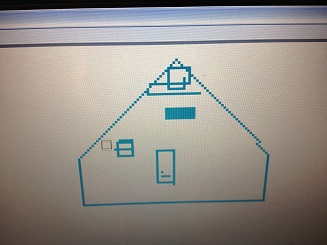 Blue House
Mom clarifications: Camp is Camp Jabberjaw at Mississippi State University. Listening Art is facilitated art. Kyleigh experienced this first by observing an individual creating art and then was invited to try it herself. I truly think it was a life changing experience for her as it was the first time she ever got to create something that was truly hers. It was the first time anyone outside her family really took the time to listen to what she had to say. More information Express Yourself!Art
Kyleigh uses an Eco14 with 84 sequenced vocabulary and a single switch for access using column/row scanning at 0.5 seconds speed.
The T. K. Martin Center's EXPRESS Yourself! Art (EXperiencing Painting as Recreation & Express the Spirit within YourSelf) uses the techniques of Artistic Realization Technologies A.R.T. to provide a means for Mississippians with the most severe disabilities to feel the power of self expression through art. Trained individuals, called trackers, "act as neutral arms, executing the vision of the physically challenged through laser-guided tracking and other exacting technologies" (Lefens, 2005). Trackers use precise techniques to "allow a person with the most minimal ability to move to create subtle, exacting works of art" (Lefens, 2005).
Tim Lefens' program, Artistic Realization Technologies (A.R.T), is located in Princeton, NJ. Mr. Lefens has written a book about his experience entitled, Flying Colors.
There are no comments yet. Be the first to post!
---
You must be logged in to post.

Communicators In Action
---