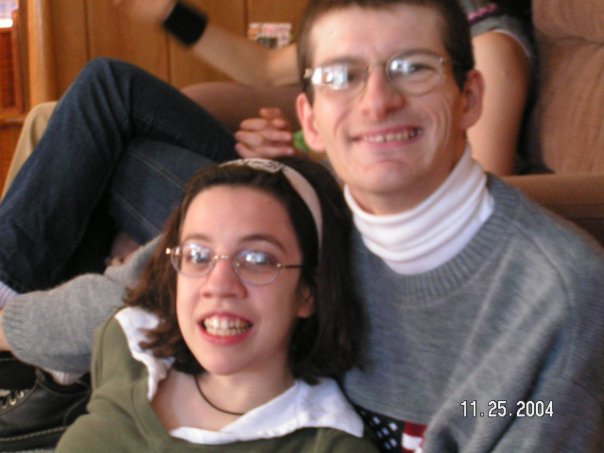 By Jon Feucht, M.S.Ed, Executive Director Authentic Voices of America Doctoral student (On-line Ed.D program)
Jon and Sarah Feucht
Before I get into my case, I need to preface it by saying there are some minor requirements to take full advantage of this. Obviously in order to do this, people with disabilities need computers and access to the internet, however, as Dobransky and Hargittai (2006) pointed out, only 39% of people with disabilities live in homes with a computer, let alone having internet access. As surprising as this statistic is, may I point out that if you are reading this you don't fall into the 39%!
With that being said, I would like to get into ways you can utilize the internet to become a more independent and productive person. I think everybody knows about computer games and social networking, which is all fine and well but there is a lot more that people with disabilities can already do with the internet.
First of all, you need to realize the internet is taking over for anything that takes paper and pen, so things like on-line banking, paying bills, obtaining employment and then doing the work for the job are all things that can be done on-line .
There is a revolution that is taking place on the internet, at first I was quite skeptical of this myself, however, now that I am getting into it, I am seeing an enormous potential for people with disabilities.
So what am I talking about? I am talking about on-line education. The coolest part is that it has a very wide array of possibilities to meet your wants and needs. You could take one course on something, like what Prentke Romich Company offers, or you can do entire college degrees from the comforts of your own home.
The reasons why this is excellent for people with disabilities is first, once the person with disabilities is set up with the correct computer and assistive technology to get on-line, given the nature of how over the internet, communication is not done in real time, the person's speech disability does not come into play. Also the person can study anywhere without moving and having the hassles of finding new personal care workers.
For 'Communicators in Action' , this has been Jon Feucht, see you on-line.
There are no comments yet. Be the first to post!
---
You must be logged in to post.

Communicators In Action
---