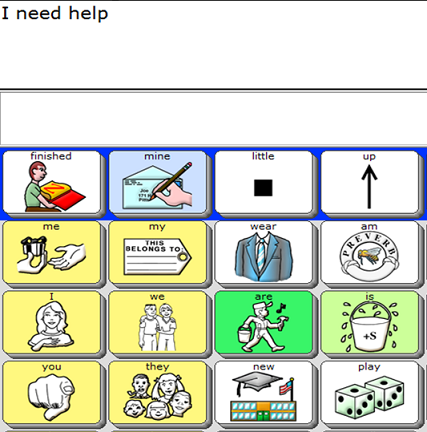 _By Laura Kessel, M.S., CCC-SLP, AAC Specialist
I'm Laura, an SLP and AAC Specialist working with both adults and children. I'm generally curious about everything and in the process of collecting far more picture symbols, apps, and toys than any one person reasonably needs.
Getting teams on board with core vocabulary can be challenging. One of the biggest hurdles I face in my role as an AAC Specialist for Easter Seals of Massachusetts is that even when a teacher and classroom staff theoretically understand the emphasis on core vocabulary in Unity or LAMP, they often still aren't quite sure how to implement device use in practice. I do my best to train both staff and the student, but I'm only in a given district one day per week.
Sound familiar to anyone?
Core vocabulary can look overwhelming to a busy staff member or a swamped teacher. The crux of the issue is that many teams still think of communication goals as topic- or setting-specific. It's easy to see why, since the school day is generally broken into scheduled activities which take place in particular settings.
Core Words
I try to leverage this mindset by providing examples of core vocabulary use, arranged by topic. I give detailed lists of the core vocabulary a team might use in a variety of regularly scheduled activities (e.g., cooking, music, art, gardening, snack time or fast food ordering, shopping), including the icon sequences.
The icon sequences are critical. While the teams appreciate the time I spend with them and the training I provide, they may still need help finding the vocabulary when they go to model on the device. The moment is lost and the model falls apart if it takes the team too long to construct the relevant utterance from memory, and this only reinforces to a team that the device is confusing and should be avoided.
That's the last thing we want them to think!
With the icon sequences in hand to facilitate modeling, and the basic core vocabulary for a particular activity laid out clearly for them, many teams find device use much less intimidating. They may even start to become braver about exploring the device on their own, as they become more familiar with the layout of Unity or LAMP and begin to remember vocabulary locations. Before they know it, the words the team was using for the snack activity (e.g., "stop," "more," "want please," "I don't like," etc.) are cropping up in music class or during life skills training.
I used to cobble together different Smart Charts from the AAC Language Lab to provide these examples with the icon sequences, but a recent email exchange with the wonderful Jane Odom at the Language Lab has led to the development of some new Smart Charts that provide examples of core vocabulary, with icon sequences, organized by applicability to generic classroom activities. I hope you find them as helpful as I know I will!
There are no comments yet. Be the first to post!
---
You must be logged in to post.

Stories and Strategies fo...
---