By Jane Odom, M. Ed - Director of Implementation Resources
CoreScanner is a progressive vocabulary program specifically designed for individuals with physical disabilities, who best access augmentative communication technology through the use of a switch. CoreScanner was developed over the course of two years and beta tested for over a year with individuals across a broad range of abilities and levels
TheCoreScanner design is based upon the foundations of Minspeak®, Unity®, and LAMP that have proven effective for so many people, and on the following principles:
Motor Planning:
CoreScanner is a "Motor First, Vocabulary Second" language program. CoreScanner seeks to build language through the activation of the switch itself by providing a consistent, progressive scan pattern into which the vocabulary is made to fit. Whether beginning with a single word, or with hundreds of words, motor actions learned for words never require relearning in the CoreScanner progression.
Single Words:
While some phrases are available at the higher levels of CoreScanner, it is essentially a word-based language program, and early levels are made up exclusively of single words. Single words are the foundation of our language, and are essential for the expression of novel thought.
Core Vocabulary and the Frequency of Use:
Some words are used more often than others when we speak. CoreScanner focuses on the words we all use most, our core vocabulary. Early levels of CoreScanner focus on core words found early in typical language development. As vocabulary grows, CoreScanner prioritizes words in the scan pattern based on the frequency with which they occur in language.
Robust Vocabulary Needs:
CoreScanner assumes that each new learner has something unique to say, and will require a robust vocabulary to do so. CoreScanner can begin with just one core word, but builds forward to hundreds, and then thousands of words.
Early Access:
It is never too late for anyone to begin to use CoreScanner. However it is also true that language development begins in infancy, and progresses in a relatively predictable way. It is therefore never too early to begin to learn to communicate.
CoreScanner seeks to provide access to a progressive and fundamentally sound language application for the earliest language learners.
Quick Summary of the CoreScanner Levels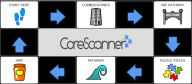 ---

Start Here
A single word "More". Designed for the new scanner who is just learning to access his or her switch. Use this level with just 1 switch regardless of whether the intention is for 1 or 2 switches.
---

Cornerstones
A group of 8 core words that occur in early language development. Accessed in a "linear scan" (i.e. left to right, top to bottom one after the other) with large keys that fill the screen.
---

PrePathway
The same 8 words as in Cornerstones, shrunk to smaller key size in preparation for the Pathway level. The scan pattern remains linear. A 9th Cornerstone word is added to the end of the scan at the top of the screen.
---

Puzzle Pieces
An ancillary, practice level. An individual block from Pathway is selected and scanned in a linear pattern.
---

Pathway
8 blocks of 9 words, and a 9th block of 11 words accessed in a "block/linear" scan pattern. Each of the 9 blocks begins with one of the Cornerstone words. There are a total of 84 locations on the screen.
---

JAM!
Blocks, words, and scan pattern are identical to Pathway. The "word families" are introduced such that 19 of the words from Pathway now link to more words in the family. This is also the first opportunity to customize vocabulary unique to the learner.
---

Blast
The final level of CoreScanner. All word families are introduced. Note: This is a separate vocabulary, set apart from the other levels.
---
Visit the PRC YouTube Page for an informative video on Core Scanner.
For more Core Scanner information, see our Resource Page

News
---