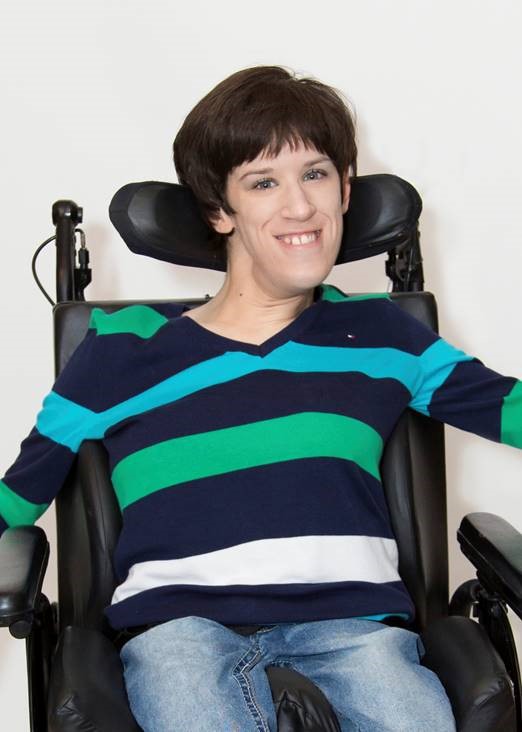 By Kristy LIpe - PRC-Saltillo Ambassador
Hey everyone! I'm Kristy Lipe, I'm twenty-nine years old and I have cerebral palsy . And, that is due to the lack of oxygen I had when I was born . Thankfully though I think and understand everything like a normal twenty-nine year old does! I'm a 3rd degree black belt and three time world champion in A T A. My interests are theater, dance, wellness & fitness . And I'm typically out in the community a lot because I'm really not a home body.
When you see a person or an ambassador using an ACC device, if ask them a question, you need to give them time answer back. I've been there a lot of times and I'll have the answer ready, but the conversation has moved on to something else . I'll think to myself, "should i even hit speak because they aren't talking about that anymore. But, luckily the people i am around the most know i need time to type my answer to their question .
It is very important to talk to the person with the communication device or anyone with special needs in general. Number one, everybody deserves respect and courtesy. Second, the person you are trying to interact with might be able to think like i do. If you ask their parent or nurse the question, they are probably thinking , "I could have answered that for myself. I've had a a lot of experiences with that in public. The only time i look at my mom is when people baby talk to me, because I hate that!
It should really be common sense, but when speaking to a person with a communication device you should not ask them something then walk away. It might take them a few minutes to type in their answer . You should always be very patient with them. This is especially important for younger special needs children who are just learning to use their device.
The next point is very important to me. When speaking to someone in a wheelchair or who is seated while using their device, you should be considerate and get on their eye level. This allows you to be more engaged as you speak with them. I recently got to meet Tim Tebow, and was very impressed that he immediately got down on one knee to talk with me.

Communicators In Action
-

AAC, communication partner, interaction, protocol, manners
---