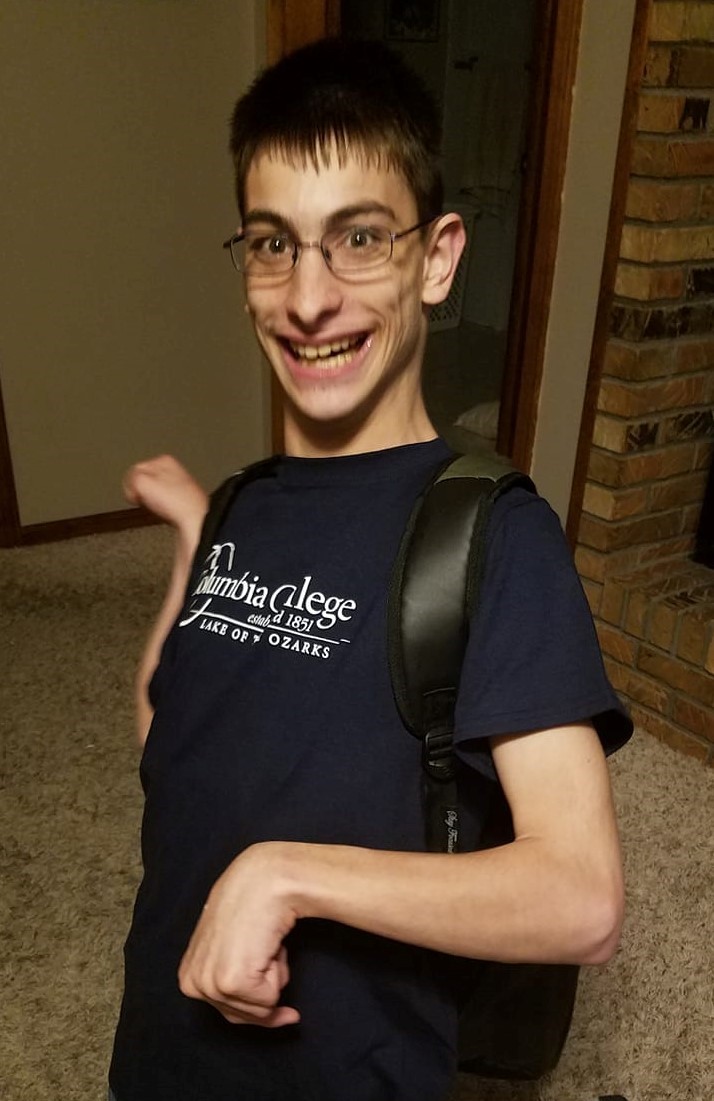 By Kyle Dinwiddie, PRC Blogger
Going to college has been one of my dreams since I was about 12. I didn't know if I would ever get to go. Many people assumed that I would do online classes, but I wanted the college experience. Although, I wasn't sure if I wanted to stay in a dorm like my brother, being accepted to go to college was 'a dream come true.'
Columbia College offers several things that made them a good fit for me. They offer an early and late session for each of their semesters. That means that their classes are 8-weeks long instead of 16. I know I will be studying more material in a shorter period of time, but the idea of being able to take 2 classes at a time instead of taking 4 sounds better. They also have satellite campuses. This means they offer classes in several places close to my home. So I don't have to live in a dorm if I didn't want to.
The campus that I am attending is just the right size for me. It is small enough that everyone knows everyone. I really like that. Something else that is unique about Columbia College is their tuition includes everything needed for their classes. This means that the cost of books and other fees aren't extra. I've been told that this is a big deal, because these charges can get pretty expensive. Their textbooks are e-books. I'm NOT too crazy about that. I like to be able to look and turn pages in a book. And even though you can do a lot of cool things with their e-books such as highlight; write notes; have the page read to you; and many other cool features; it's not the same as having a physical book to hold and touch. But this didn't stop me from signing up for college.
And this last week my dream of attending college came true. My first two classes are World History and Algebra 1. Since I am NOT a morning person, I did the afternoon classes. World History is from 3:15 to 5:15 and Algebra 1 is from 8:15 to 10:15.
Not knowing what to expect, I attended a new student orientation on my first day of class. They showed me how to get logged into my classes along with a lot of helpful information. It all seemed pretty easy. And for attending this orientation, I received a Columbia College t-shirt with the chance to win a Kindle Fire.
Then it was time for me to go to my first class, which was World History. It was on the second floor. The class was already pretty full by the time I got there. The instructor was already talking. My mom recognized the instructor right away. He was one of our local high school teachers.
I usually don't like history, but I really liked this class. My history instructor made it so interesting. You could tell that he loved history. He shared with us many fascinating and cool facts about all kinds of things. He used humor throughout his lecture. I couldn't help but to laugh out loud several times. I think when you present something to someone using humor, they tend to listen, and will remember it much better.
One negative thing about my classes is that there is a 3-hour break between them. My mom thought that we would be able to run home for supper, but it became obvious that this wouldn't work. So instead, she took me to McDonald's. I liked that idea.
During the break, I couldn't stop thinking about how happy I was to be going to college. I couldn't wait to go back to my World History class and learn more.
Soon, it was time for my Algebra 1 class. It was on the second floor, too. In fact, it was in the same classroom. But this time, I arrived before everyone else. As people began to fill the room, I wondered about the instructor. As he introduced himself and told us about what to expect in his class, I just sat there in amazement.
On the way home, my mom noticed that I wasn't as talkative about my math class. She asked me if I was tired. No, I wasn't tired. I wasn't too sure about my Algebra instructor. I was very intimidated by him. I thought I was good at math, but I didn't feel like I did very well at some of the examples he had us do in class. Can I really do this college thing?
As I mused about the contrasts between my two instructors…Oh, by the way! muse is a new word I learned this week…I began to see that they were different in almost every way. My history instructor was funny; my math instructor was serious. My history instructor seemed laid back; my math instructor was strict. My history instructor made silly gestures; my math instructor spoke with preciseness. My history instructor dressed very casually; my math instructor was dressed very formally in a suit and tie. My history instructor was short; my math instructor was tall. Although these contrasts were shocking, they did have something in common. They both were very knowledgeable about their subjects and you could tell that both of them wanted us to learn what they were teaching.
While I continue to enjoy my history teacher more and more, I am also starting to like my math teacher. He is not as intimidating as I first thought. And even though I am VERY busy with a lot of homework, I am so happy that I am living out my dream of being able to go to college.
This is Life with Kyle and I will talk to you next week.

Life with Kyle
---