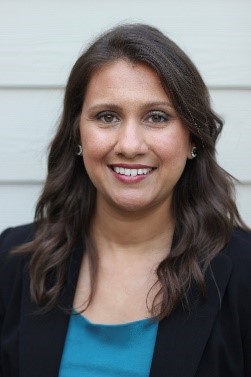 Punam Desormes, M.A., CCC-SLP, ATP
Speech-Language Pathologist and Assistive Technology Professional at the University of Central Florida and Apple Patch Therapy, Inc.
The autism spectrum disorder (ASD) classroom - It is a wonder! Full of challenging behaviors and language deficits, BUT also full of excitement, multi-modal learning, inspiring educators and exceptional children working hard to make sense of the world around them.
I worked as a speech-language pathologist in an elementary school serving children with autism for almost ten years. This meant that we did not have 1 ASD classroom, or 1 ASD unit, but a whole ASD school. That's right, this rare school created a safe haven for 150 students where they were given every opportunity to access their academics and reach their potential.
This was such a unique experience that guided me towards my passions. I learned that I loved 2 things in particular - collaboration and assistive technology. These two things were paramount when working with children with autism who often used alternative modes to communicate (PECs, signs, augmentative and alternative communication devices) and needed a team willing to work together in helping them. It was hard. It was exhausting. It was sometimes even sad. It was incredible. I grew so much as a therapist, educator (man those hard-working, dedicated, creative and resilient teachers taught me sooooo much!), professional and as a person. I got to see first-hand that listening to other professionals and creating relationships based on our shared desire to help kids reach their highest potential could have an exponential impact.
It really was more than any one professional could ever do (even a really really good one)! Every person on the team had valuable expertise they were able to fit into the enormous puzzle we were all trying to create together. More often than not, each person was desperately looking for other professionals to help them fit the pieces together. The students themselves and their families were desperate to have a team of people that were willing to work together to meet their child's needs versus hearing tons of differing opinions.
Collaboration was the key for me. I thrived on connecting with others and discussing real practical strategies and methods to help the kids learn and access their environments. I will never forget hearing the sweet sound of behavior therapists and teachers telling students to "get your device" and "tell me what you need/want/think" just as I am sure they all felt ecstatic when they saw me using a token board and helping a student learn an academic task.
This collaboration lent itself perfectly to the use of assistive technology. Approximately 1/3 of the students at the school had a dedicated augmentative and alternative communication device (AAC) that they used to communicate in school (and at home!). All students were exposed to AAC in some form as core word board, visual supports, low and mid-tech devices were abundant. Teachers and teacher assistants, behavior therapists, occupational therapists and speech therapists all worked together to ensure that the students had access to their devices throughout the day.
We also collaborated on best practices for programming and implementation. This is not to say that we did not have our challenges. Not every teacher or therapist was down with the collaboration, but majority were, and it was glorious! When such a setting exists, and on the whole it is successful, people take notice.
One such person was Laura Jiencke of Kayle Concepts, LLC. Laura is the creator of Bluebee Pals, a plush interactive assistive technology tool. I met her while attending a conference with my school administrators and fellow speech-language pathologists. We all fell in love with these Bluetooth enabled talking tools that could be paired with any smart device and my principal order one as soon as we returned to school.
Pretty shorty after we became part of the Bluebee Pal Project, their non-profit donation program, and were gifted over 15 Bluebee Pals. Laura learned about the school's passion for collaboration and use of assistive technology. She insisted on visiting to capture all that we were doing including use of the newly donated Bluebee Pals.
Speech-language pathologists were using Bluebee Pals to work on articulation, expressive/receptive language and pragmatics. Teachers were using Bluebee Pals during circle time, reading and math. Behavior therapists and occupational therapists were seeing how many students chose Bluebee Pals as their most desired reinforcer. The Bluebee Pals brought even more fun and learning to the school environment as an AT learning tool that the whole team could use!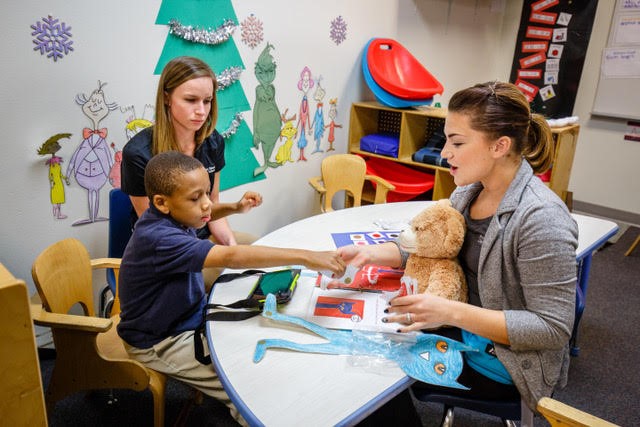 What Laura witnessed at the school was really no surprise to me. I had been witnessing it daily. Struggles of the children and staff were overcome when given access to assistive technology in a language-rich and cooperative atmosphere. Needless to say, I loved (and still love) this school and I love Bluebee Pals! So I guess my passions are really at 4 and I want to share their impact with you!
Check out how you can use Bluebee Pals in your classroom, therapy session and home at Blue Bee Pals . Pay special attention to the Professional Development link where educators and therapists can find tons of resources and Core Curriculum lesson plans!
I think you all will love them as much as I do!
Punam Desormes, M.A., CCC-SLP, ATP
Speech-Language Pathologist and Assistive Technology Professional at the University of Central Florida and Apple Patch Therapy, Inc.

Stories and Strategies fo...
-

therapy, intervention, asd, autism, aac, implementation, blue tooth, blue bee, apple patch
---