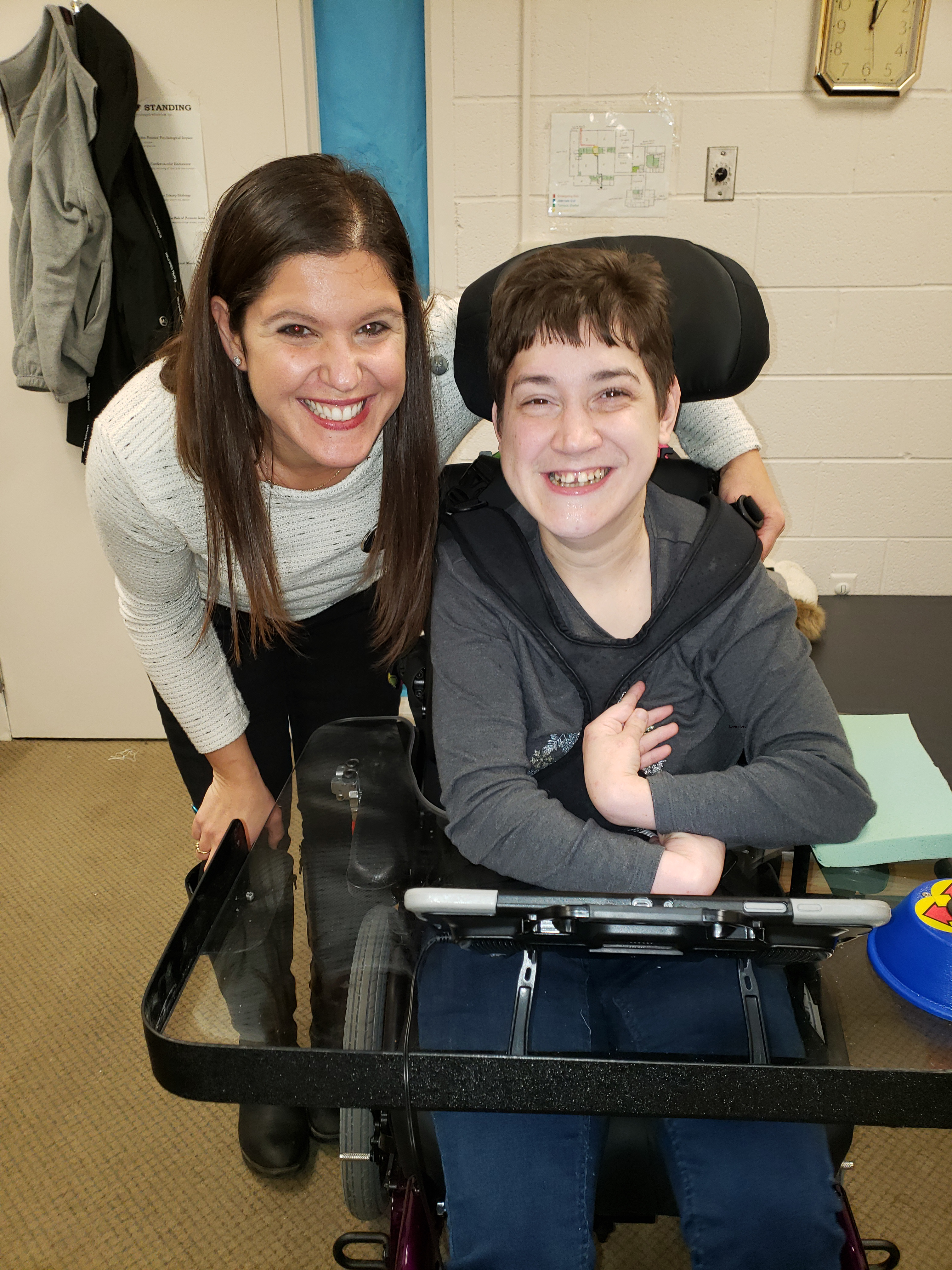 By Ceclia Marietti, M. Ed, PRC-Saltillo
As a PRC-Saltillo Assistive Technology Consultant I have had the joy of working with hundreds of AAC communicators. In February of 2016, I had the privilege of meeting Meredith Noble in an AAC consultation. Meredith was a bright 29-year-old woman with Cerebral Palsy working at the Murray Ridge Center Adult Program in Ohio. Meredith had been using a Dynavox 4 since 2006 but it was no longer serving her communication needs. According to her SLP, "Meredith's current speech generation device and access method take so long to communicate her basic needs, wants and thoughts, she is limited to a select few conversation partners who have the time to wait for her message output. " Her speech and language therapist was interested in trialing a Saltillo product with Meredith. What we didn't know on that day in February was that it was going to be years until we found the right speech communication device with the right access method for Meredith. In a four-year journey, I explored three different Saltillo devices, three different access methods and three vocabularies with Meredith.
Initially, the Nova Chat 10 seemed like a great fit for Meredith. After our first consultation, the SLP borrowed a Nova Chat 10 with a customized My Quick Chat vocabulary. In addition to the Nova Chat 10, we trialed one switch selection. While the therapist and I were encouraged by the results of the consultation, the SLP did not pursue a purchase of the Nova Chat 10 after the trial.
In May 2017, the team wanted to continue to pursue a Saltillo communication solution for Meredith. After a consultation they were interested in trialing a Chat Fusion 10. The Chat Fusion offers more reliable scanning features that intrigued the team. Meredith proceeded with a four-week trial of the Chat Fusion 10 accessing the vocabulary with one switch. The trial proved to the team that Meredith's switch access was not consistent, and, more importantly, it was exhausting for Meredith. We played with the location of the switch, using two switches, and various supports for her arm. Similar to the first trial, the second trial concluded and the team did not go forward with pursuing a device for Meredith. Challenges included lack of time to complete the AAC Evaluation and lack of time to figure out Meredith's access issue.
Fast forward to March of 2018, I had not forgotten about Meredith and scheduled another consult with the team. Meredith trialed a Nova Chat 12 with a MultiChat 15 vocabulary at that time. One major difference with this trial was the team determined the best access point would be the touchscreen, which we had not trialed previously. The Nova Chat now offered a setting feature which allowed for visual selection features. These features allowed for the buttons to be magnified and animated which increased Meredith's attention to her selection. In May of 2018, Meredith's parents joined the SLP and myself to discuss the Nova Chat 12. We thought we had a good fit with the Nova Chat 12 using the Intermediate Scan file with touchscreen scanning. Meredith's parents were enthusiastic to pursue funding. While it seemed like all the pieces were in place to finally get Meredith a device, life got in the way and Meredith's SLP got ill. With the SLP on medical leave, there was no one to move forward on the funding packet.
When the SLP was able to revisit Meredith's journey to her new speech generated device in October of 2018, the consult with the Nova Chat 12 gave us completely different results from our previous consult. The Nova Chat 12 with touchscreen scanning provided inconsistent message formulation. We went back to one switch scanning but could not find a consistent access point to place the switch. The SLP and I were frustrated and saddened that we seemed to be letting down Meredith again. The SLP continued to work with Meredith's access after the consult and also continued to battle with her own personal medical issues.
In an effort to serve Meredith better, the SLP invited a colleague to take over Meredith's case. This new SLP lent a different perspective to our journey and suggested that we trial a joystick to act as a switch for the Nova Chat 12. Renewed by this new outlook, we all met again in September of 2019. Saltillo had a GetBrainier Joystick in our switch loaner library. Without much experience with the joystick, I borrowed the joystick and the team assembled once again. While Meredith could access the joystick quite well, the actual joystick did not interact with the Nova Chat ideally. The GetBrainier Joystick did not work well as a switch and did not provide voice output when Meredith made a selection. Knowing that the joystick could be the key to unlocking this communication puzzle, I went on a hunt for a joystick that would work for Meredith. I ordered the 4-in-1 Joystick from Enabling Devices. In December of 2019, we all met once again and Meredith rocked the new joystick!! She was elated to talk about going to church and the Indians. While we revisited the MultiChat 15 Adult file for Meredith, she was very excited about the conversational options with the Intermediate Scan. One of the biggest eye-openers of the consultation was that Meredith was best supported using the joystick on her tray. In the past we were very focused on having the switch mounted.
Meredith is still on her way to receiving her new device. The team is in the process of submitting funding paperwork for the Nova Chat 12 with the 4-in-1 Joystick. Meredith's SLP said it best: "switch access is a fuzzy area between OT and Speech. I think a lot of people you come into contact don't end up being successful. Unless you try over and over, you never know. There is an art to getting a switch. You must consider accuracy and stamina." We certainly had to try over and over, but the journey was well worth it. Meredith currently has one of my personal Nova Chat 12 loaners and is using the joystick to communicate daily. It is the entire team's hope that she will be using her very own device in the near future.
There are no comments yet. Be the first to post!
---
You must be logged in to post.

Stories and Strategies fo...
-

access, AAC, journey, nova chat
---