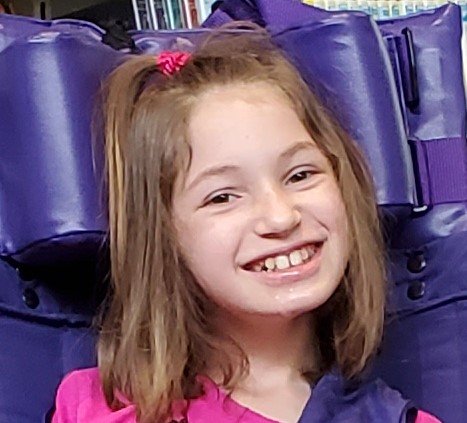 By Veda Ritchie, PRC-Saltillo Blogger, 5th grader
What up my homies, my name is Veda Ritchie. I am 11 years old and I am in 5th grade. My school is really old, it is 94 years old. I love learning new things in social studies and literacy. But, my favorite class is P.E. I enjoy spending my free time with my friends. My friend Brooklyn is my best friend and she is funny. Flora and Grace Ann are my other best friends too, they are so cute. We all like to play together. My teachers are Mrs. Chloe, Mrs. Nina and Mrs. Crouch. They are each sweet and cute.
My family members are my dad, mom, sister Libby and our dog Rya. We all like to have movie nights and watch Twilight. When I watch TV, I love to watch the show Reba, it is my favorite. On Sundays, my family watches football. Our favorite team is the Kansas City Chiefs. My favorite holidays are Halloween and Christmas because one, I like to dress up (I was Tweedy Bird this year) and go trick or treating. Two, I love hot chocolate and I enjoy watching Christmas movies like The Grinch. Also, my favorite food is cake and I love noodles and bread sticks from Olive Garden. My favorite music is by Howard Jones from Killswitch. I listen to him in the car and at home. I like to play Elsa board games, card games, and matching games.
When I grow up, I want to be a nurse because I want to help people. But, I am not a fan of shots. I have an Accent 1400 device. I use my eyes to look at my device, and my device is tracking my eyes. I stare at a word and it speaks for me. I have Cerebral Palsy so I have seizures sometimes. Cerebral Palsy makes it hard to move my body around, so I use a wheelchair and a device. My wheelchair is so old and dies. I have a power wheelchair that I drive with my hand. My power wheelchair makes me frustrated sometimes because it dies on me. I have had my device for a year. I love my device because it is a lot faster to answer questions in class.
I hope everyone reading this remembers to be themselves.
There are no comments yet. Be the first to post!
---
You must be logged in to post.

Communicators In Action
-

veda, aac, communication, family
---