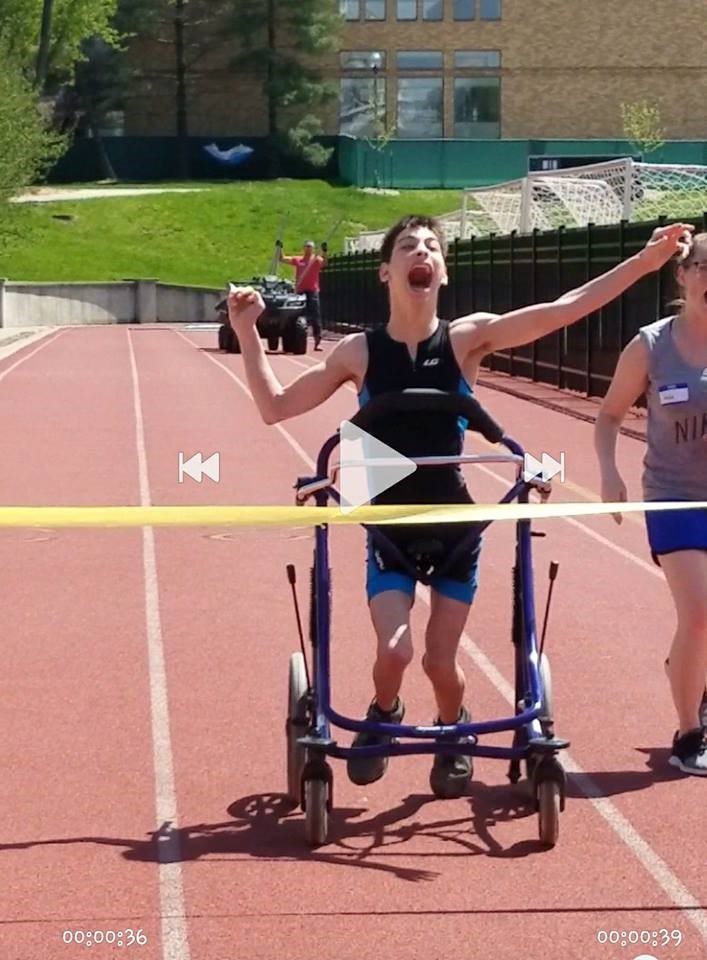 By Kyle Dinwiddie, PRC Blogger
The day for my triathlon finally arrived, although I didn't get to train as much as I would have liked. My dad was busy working on his own marathon. However when that was finished, the weather wouldn't cooperate. And then I had that nasty kidney stone. I was nervous that I might not do well. But ready or not May 5th was here.
Have you ever been to the Mizzou Rec center? It is a wonderful place. My dad wishes he could be a college student again, so he could have access to it.
After finding a parking spot, we walked to the registration area. I was given a pretty cool CoMO triathlon t-shirt. Then headed to the pool for the first leg of the tri. In minutes they had me in the water. I did a 100 meter swim. I only had to swim across the pool and back, which was 2 laps. I think my recent swimming lessons helped me a lot. Mom and Dad said I did great.
With an instant I was out of the water, and off to the cycling part of the tri. After drying off my feet, my dad put on my socks and shoes. Then off through the university campus we went.
When we arrived at the biking area, there were lots of bikes to choose from. Once I got all geared up, I took off. After biking one mile, I quickly got off the bike and into my gait trainer for the last part of the tri.
Do you know what the last part of a triathlon is? Yes, it is running, my favorite part.
The Mizzou Rec center has a great outside track. I ran around it once, which is one third of a mile. As I came around the final corner, I could see the finish line. And with everything in me, I pushed with everything I had. I ran really hard and fast. It felt great running through the tape at the finish line.
Yahoo! I did it, I finished! And it was awesome!
After getting a metal and some other prizes, we packed up and headed to Bubblecup Tea Zone to celebrate. I got my new favorite, watermelon milk tea. It tasted like I took a bite of a fresh, ripe watermelon.
It was an awesome day that I will remember for a long time.
This was my second triathlon. I plan to do another one this fall. I think it is important to stay fit and be active. But it is so easy to sit around and watch TV or look on your phone. But God calls us to be fit. 1 Corinthians 6:19-20 says we should honor God with our bodies, not be lazy.
This is Life with Kyle and I will talk to you next week.

Life with Kyle
---