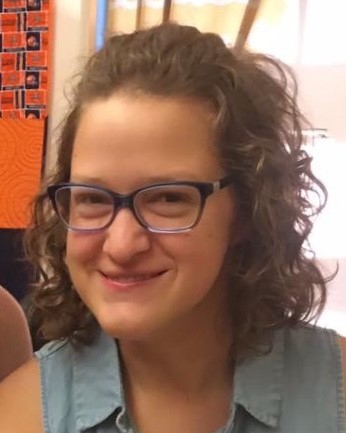 By Hannah Foley, PRC-Saltillo Blogger
As we close out AAC Awareness Month 2020, I cannot help but reflect on my experiences within the AAC community, as both an user and professional. While I was growing up, I had no idea what I was going to do as a career nor did I ever think that the career that I would end up pursuing would change me and my life.
I was extremely resistant to using AAC when I was a child, like many children are. I have always seen myself as being "normal", even though I know that I am different as I do have a disability which is out there for all to see. I was a typical adolescent who wanted to "fit in" with my peers. I felt like having some electronic device mounted in front of me on my wheelchair would make me feel even more different from my peers than I already was, so I refused to have my device mounted so that it would be accessible to me at all times and I was extremely resistant to using it at all.
As I grew to be more accepting of having my device mounted to my chair, I slowly began using my device in social situations and within the classroom. It was a slow and tough process to get me to fully buy into using AAC, but with many different professionals and my mom in my ear telling me that I was going to have to use it consistently. I always knew that I wanted to move away from home to go to college and my support system was always supportive of that dream. However, I was told that if I did not start to use my device to communicate with people who can not understand my verbal language, I was not going to be able to achieve my dreams. This hit me hard as I knew that I was not going to not be a "normal" young person and not go to college just because I had a physical disability and a complex communication disorder.
Fast forward to senior year of high school and deciding on my college major and career. I had brainstormed a variety of different options that sparked my interest, including marketing and social media marketing. Around this time, I had just began to do some public speaking on AAC, as well as mentoring other AAC users. I greatly enjoyed both of these things. These experiences pushed me to become more comfortable and willing to use my AAC, which began opening more often opportunities for me. I thoroughly enjoyed peer mentoring and guest lecturing and decided to incorporate this passion into my future career. This was one of the best decisions I have ever made.
It took me some time to gain some formal professional experience in AAC, but the hardest part of the journey is always the beginning. Prior to starting at PRC-Saltillo, I had the opportunity to work at a SLP clinic that specializes in AAC, which made me realize that I had chosen the correct field as I really liked the work that I was doing. A few summers later, I was offered a position as an intern at PRC-Saltillo and I have been with the company ever since. Aside from the professional aspect, I have found so much fulfillment through my experiences here. People with disabilities have a hard time "fitting in" and being accepted, valued, and respected by peers and coworkers because they are seen as "less" because of their disability. Throughout my time with PRC-Saltillo, I have been fully accepted by my fellow colleagues and treated as an equal, regardless of my disability.
I have developed strong interpersonal relationships, both professionally and professionally, throughout my young professional career in AAC/AT. Aside from my job itself, this is why I love my profession as much as I do. My disability does not define me to my colleagues. They see past my disability and limitations and see me for who I am, accept and value me, as well as what I have to contribute professionally. I have made amazing friends through working in the field. And, of course, I have had amazing professional experiences that have helped me grow and prepare me for the future of my career.
As AAC Awareness Month ends, I leave you with this. Successful implementation of AAC does not happen overnight. Rather, it is a process that has many peaks and valleys and a end result that is extremely rewarding, fulfilling, and worth the blood, sweat, and tears. AAC is more than just an object. It is a person's lifeline to friendships, education, employment, independence, and beyond. As we approach the month of Thanksgiving, I reflect on what AAC has given me and how the field has impacted me. I am forever thankful for the life-changing people, relationships, experiences, and opportunities that I have been given. What are you thankful for? Do you have any friends or colleagues who use AAC? Do you strive to be inclusive and accepting of them? If not, why not?
There are no comments yet. Be the first to post!
---
You must be logged in to post.

Communicators In Action
-

aac, awareness, october, communication
---