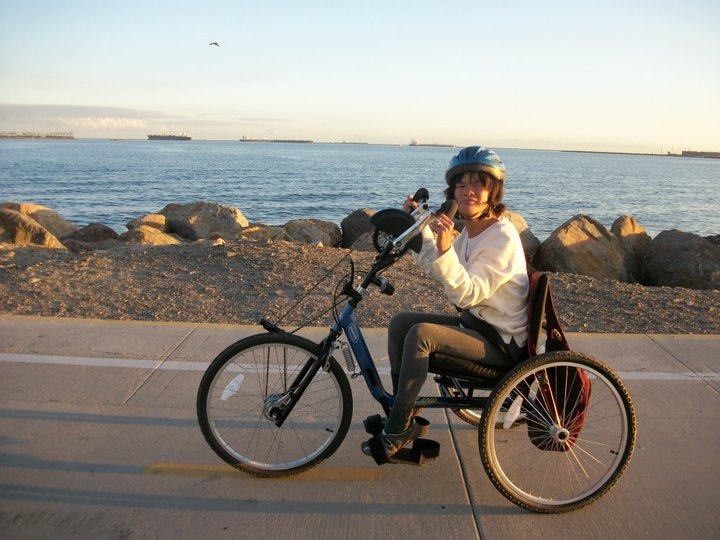 By Kim Vuong, PRC Ambassador
You wouldn't think that Benjamin Franklin, the 18th Century Founding Father and inventor, and rock star Phil Collins would have much in common. But both had the same idea about the importance of having a role model to help a person in active learning. As Franklin put it, "Tell me and I forget, teach me and I may remember, involve me and I learn." In his memoirs, Collins expressed a markedly similar sentiment, echoing the classic Latin proverb: "In learning you will teach, and in teaching you will learn."
I think that advice is especially true when it comes to helping someone—particularly a child–with a disability to learn to use an AAC device. My observation is that if a child sees an adult mentor use the device, it helps to motivate the child to use the device on his or her own. Conversely, the adult who is teaching and showing the child how to use the AAC device's symbols will learn how to do it better.
As a PRC ambassador, I have often talked to many parents and teachers who are concerned that young students are not using their devices effectively in real situations. When I asked them why they think this is happening, they generally have said that their children don't have anyone to learn from. This is not hard to understand, since modeling, in which students actively engage by imitating a behavior or skill in a social setting, is a powerful form of learning. It's not just an issue of technical proficiency, but also comfort. A child needs to see that another person has the same experiences, so that it does not seem weird for them to use their device.
As a PRC ambassador, I try to set a good example for all the children and adults who use our devices. But I have learned that mentoring another person helps me too. This past spring and summer, for example, I participated in a volunteer mentoring program offered by my former employer, ATEC Goodwill in Orange County. There were four adult users and four child users, who would meet every Wednesday for two months for 90-minute sessions to work on literary skill with the unity vocabulary, building sentences, asking questions, and so on. While the program had interns and SLPs to supervise the sessions, the adult users were the ones who primarily did the teaching and mentoring.
Kim on a hand cycle.
I was paired with a sweet little boy who was starting using the older Vantage lite device from PRC, the same device that I still use. Since he a new user, I had to be model for him and he would copy me. I would help plan the lessons and get all the materials for our time together.
Working with my young friend made me realize my own strengths and weaknesses when it came to using the device. I saw, for example, that I needed to learn more Unity language in order for me to teach. Ultimately, though, we both worked hard together to improve, and both saw results. Not only did I improve my proficiency, but the little boy is now using Unity 60 and is very successful with it as well.
There are no comments yet. Be the first to post!
---
You must be logged in to post.

Communicators In Action
---