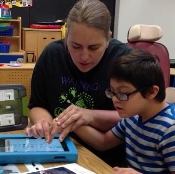 _Wooster, Ohio, August 17, 2015
It takes a special person to teach in a special education classroom and Sarah Williams is just such a person.
After working in music therapy for several years, Sarah returned to school to earn a Master's in Special Education at Arizona State University. She now teaches in a self-contained special education classroom for kindergarteners and first-graders at Palm Valley Elementary School in Litchfield, Arizona.
During the 2013-2014 school year, Sarah was instrumental in implementing the AAC Classroom Language Screener and Language Acquisition Data Sheet, new augmentative and alternative communication (AAC) classroom tools and strategies that support academic and social development for children with speech disorders. The need to improve her students' functional communication skills became evident to Sarah when she realized that without these skills, the interactive communication essential to academic progress was being hampered. Many of the 12 students in her classroom were verbal, but poor articulation made it difficult for anyone but close family members to understand them. Others had severe communication challenges, and some seemed unmotivated to use the AAC speech-generating devices at their disposal.
"Several students had their own AAC devices and my classroom has an iPad for every student, preloaded with communication apps such as TouchChat, LAMP Words for Life™, and GoTalk." But, she says, student adoption of the devices was sporadic and there was an ongoing challenge of training classroom aides on the programs and motivating them to use the devices with the students.
Teaming Up to Create Innovative AAC Solutions
Sarah says she was interested in helping to test the AAC resources "because I have always thought that if a child wants to communicate, how awesome it would be to give them a way to communicate, to give them a voice, through AAC." One of her music therapy clients had been a child who used the PRC SpringBoard™ to communicate, so she had seen firsthand the impact of an AAC device on a child's life.
To address the communication challenges in her classroom, Sarah worked with the school district's assistive technology coordinator, Jerolyn Allen, and Tamara (Tami) Taylor, a speech-language pathologist (SLP) who was then a Regional Consultant for PRC, a prominent provider of assistive technology solutions. The trio leveraged their professional experience and the free resources available from PRC's online AAC Language Lab to design AAC tools and teaching strategies.
"At the time, Sarah had a classroom of students who were ready to take off with language," recalls Tami, who now works for the Litchfield Elementary School District. "She just did not know how to take that next step to get them there."
"Jerolyn had a big part in creating the AAC Classroom Language Screener, which is based on Brown's five stages of language development," Sarah notes. "She wanted to make it simple and keep it to just one page, so busy teachers and classroom aides could use it quickly and easily to get on the 'same page' about each student."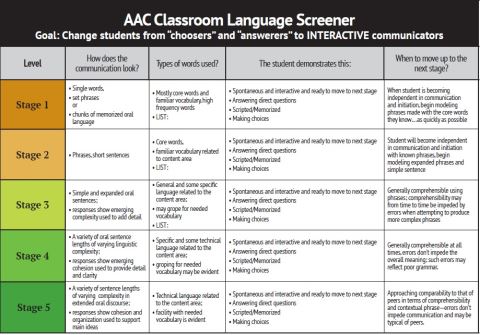 The Language Screener is a simple form that helps the teacher assess the student's current stage of language and determine when they are ready to move forward to the next stage, based on the types of words used and communication behaviors.
"Using the_ Language Screener_ promotes the concept of acceptance, which is about meeting a child where they are with language development," Sarah says. "That acceptance is key to increasing student comfort with using their designated AAC systems. When students feel comfortable with their systems, they communicate more."
A second tool, the_ Language Acquisition Data Sheet_, is used to record data required for each vocabulary-building activity to guide the teacher and instructional aides in targeting appropriate words to teach to each child.
To download the Language Screener check out the Getting Started section of the AAC Language Lab.
There are no comments yet. Be the first to post!
---
You must be logged in to post.

News
---