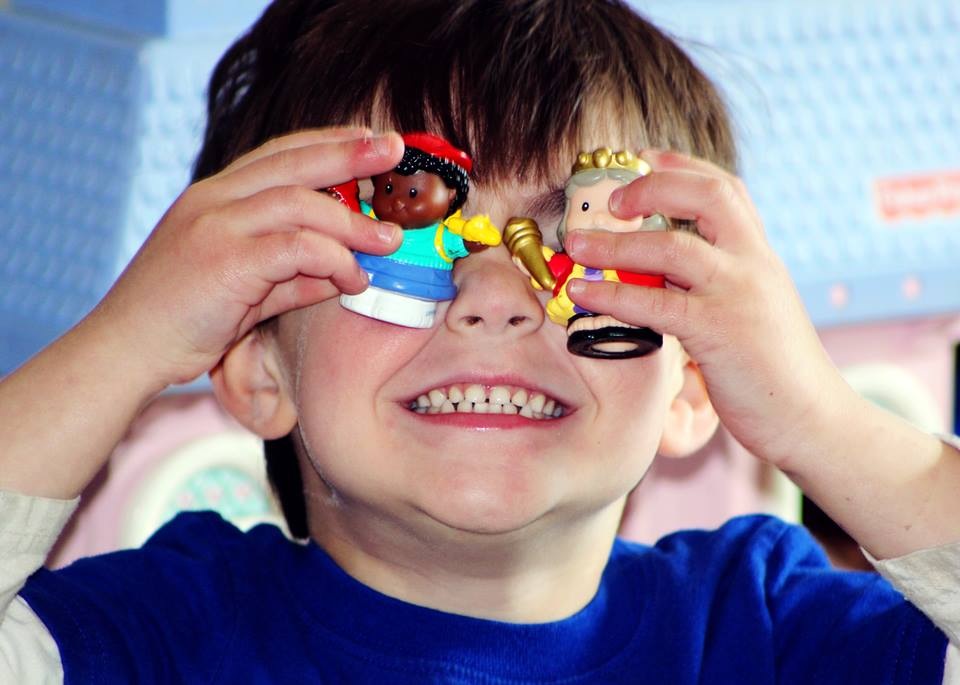 Hi! My name is Kim Thompson. I am an Occupational Therapist by training and a mom of four by blessing. I have had the pleasure of working with both adults and children with disabilities for many years. When I became the mom of a child with a speech disorder however, I truly began to understand what putting it all into practice meant.
You see, for the first time, not too long ago, I sat on the other side of the table at an IEP meeting and for the first time I was talking about implementation strategies for my son. This included assistive technology in the form of AAC. I began to understand what it means to really have the whole team on board, to have a back-up plan when communication fails and really what it means to ensure success for a person who needs AAC.
First and foremost, understand that using AAC provides the bridge, not the path. Each child is unique in their learning styles and skills. Each person is unique in what they need to communicate effectively. AAC is not a one size fits all solution. Create a solid path to language (not just speech) acquisition with your team and then let AAC help to get you there.
Learning to speak is fun!
Learning to speak naturally is a fun and multisensory process. Learning to use AAC should happen in the same natural way. Make it fun and make it natural! We don't learn to talk by sitting and drilling words with flash cards. We learn to communicate through exploring and interacting with our environment using all of our senses. Using AAC, therefore, can't be a one room, one building or one person task. Language travels the world and expands with opportunity. Having AAC available to match the words to the experience simply seals the deal.
In today's crazy schedule filled days, sometimes we just want to take the easy route. I remember one of the hardest things to learn as an Occupational Therapist was to let a person struggle a bit to do something on their own, walking the fine line between helping and hindering. The same holds true with learning to communicate using AAC. As parents, as teachers, as therapists, we often accept the "point and grunt" as I like to call it. It is an effective strategy for communication to be sure! Sometimes it's just the easy and fast thing to do too. What I've learned however, is that each time I get the point and grunt, it is a chance to teach. It is that crucial teachable moment we so often strive to get when a child is motivated to get or do something. Seize the opportunity to teach language using AAC. It doesn't have to be complicated. Simply model a word and ask for it in return. It can be a question or a statement or a comment. Open, that, have it, up, inside, whatever concept goes along with the situation. You will see that by asking for some communication and allowing only for something other than the point and grunt will soon become routine, for both you and the communication device user.
Finally, talk to the device user, just like any other person. I know this seems like a very common sense, almost insensitive statement to make but in truth, when a person sits in silence, we often sit in silence as well. When a child asks questions about their environment, we respond. It's natural. For a person whose voice is not communicating as it should, this silence happens all too often and we learn to live with it. The questions do not happen naturally, so we do not respond. It's natural. In order to promote a language rich environment, consider filling the silence. In fact, narrate your life! You will soon find that you are exploring concepts for math, for reading, for learning language! You will also see the words that you use to communicate and may also find ways to incorporate these words into teachable moments all throughout the day.
The box or page or book of words that make up an AAC system is simply that. We, as the adult supporters of a person with complex communication needs, must teach the what, when and how to use the words effectively to communicate and sometimes that teaching has to start with ourselves first.
There are no comments yet. Be the first to post!
---
You must be logged in to post.

Stories and Strategies fo...
---