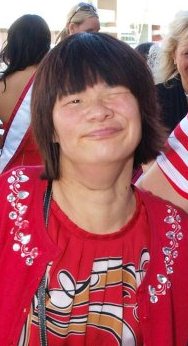 By Kim Vuong, PRC Ambassador
Kim Vuong
For non-disabled people, using the telephone is so easy that they don't really think much about it. But for those of us with cerebral palsy and other disabilities that impair our ability to speak, communicating over the phone can be a real challenge. That's true even if we have access to an assistive and augmentative communication device (AAC) such as the ones manufactured by Prentke Romich Company (PRC), for whom I serve as an ambassador.
The good news is that there are ways to utilize technology to help get your message across. Here are three tips on how to be better understood.
1) Take advantage of Speech-to-Speech Relay Services. For those who can speak but have difficulty being understood, Speech-to-Speech (STS) is a particularly useful form of Telecommunications Relay Service (TRS), the blanket term for various systems that allow persons with hearing and speech disabilities to access the telephone system to place and receive telephone calls. Like other telecommunications relays, STS uses a Communications Assistant (CA), an operator who helps you to convey information. With STS, however, you don't necessarily need a specially-equipped telephone. Instead, the communications assistants, who are trained to understand people with a variety of speech disorders, simply repeat your message to the person you are calling, and make your words clearer and more understandable. Even so, if you need to utilize an AAC device to communicate, you'll want to follow the next step as well.
2) Get a good speaker phone. With a good-quality speaker phone, you can transmit voice-synthesized messages from an AAC device to a CA on an STS service, or directly to the listener. I've pre-programmed some frequently-used messages into my Vantage device, so that I can easily transmit them. For example, when I call to make a reservation for a ride, I go to my setup page for transportation services, and utilize pre-programmed message buttons for my name, ID number, the address where I need to be picked up, and the addresses of my usual destinations.
3) Ask for patience. We live in a world in which people are often in a hurry or under stress, and it's easy for them to become short with someone who has a disability, perhaps without even realizing it. I try to counteract this by making a point of appealing to the listener's better nature. I make a point of reminding them at the start that I have a disability that makes it difficult for me to communicate, and ask them to be patient. But it works both ways. I also do my best not to become frustrated if someone has difficulty understanding me, and instead simply calmly repeat my message until I get it across.
I hope that helps!
There are no comments yet. Be the first to post!
---
You must be logged in to post.

Communicators In Action
---