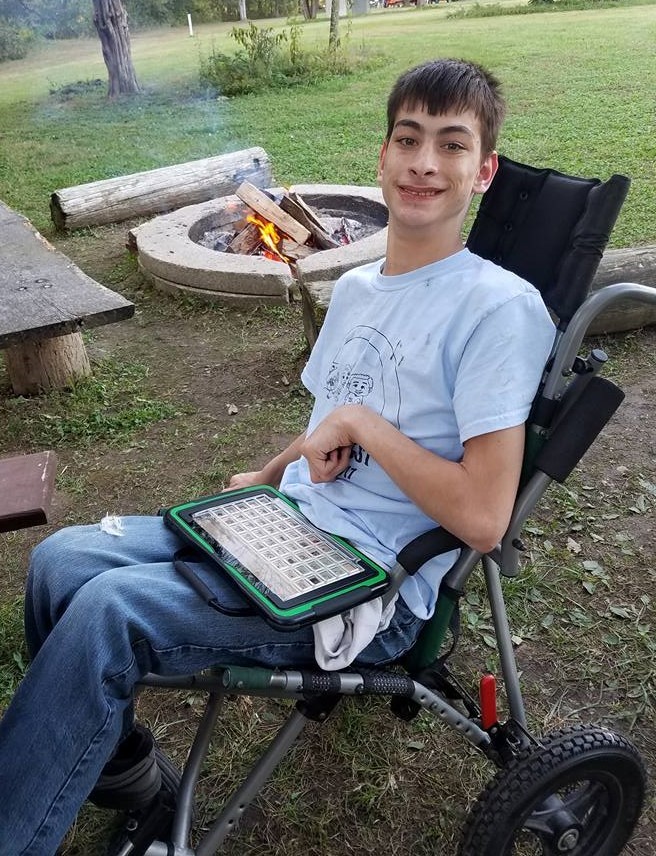 By Kyle Dinwiddie, PRC Blogger
Today, I want to tell you about my communication devices and what they mean to me.
You already know that I write a weekly blog for PRC's AAC Language Lab, but it might surprise you that I, also, write for my local newspaper. I am able to write and store these articles on notebooks, which I can then, transfer them to a word document on my computer.
I received my first communication device when I was seven years old. It was a Vanguard. In fact, I still use it to write stories on it to this day. I have been writing stories long before I could read or spell. It was easy with the Vanguard. When I wrote a sentence, it would speak it back to me. And it didn't take long before I figured out that it was fun to write. At one time I had fifteen notebooks on my Vanguard. My mom couldn't add them fast enough for me.
And for the first six years, I only used my Vanguard to write stories. It wasn't until I joined a youth group that I learned that I could use it to interact with others.
And guess what? People were astonished that I had stuff to say. I wasn't just a pretty face in a wheelchair.
One time at a youth group, the pastor began to ask me questions. He enjoyed talking to me so much that we talked for a long time. This is when I discovered the value of my communication device.
You can't imagine how wonderful it is to be able to communicate my thoughts to others. When people realize that my device is not a game, but a way to communicate, they become very interested and interact with me.
It has been four years ago that I got my Accent. I prefer to take the Accent with me when I go places, because it is a lot easier to carry than the Vanguard. Plus, the Accent allows me to make phone calls. I really like that. One time I actually called and ordered a pizza. Another time, I used it to place an order at a local restaurant. The waitress was very impressed.
Being able to let others know what is on my mind is priceless. People treat you differently when they realize you are able to communicate with them. I am very thankful for both my vanguard and my Accent. I can't imagine not having them. They have given me a voice.
Thank you, PRC, for creating a way for me to tell others what I am thinking. Without these machines, I am speechless, literally. This is Life with Kyle and I will talk to you next week.

Life with Kyle
---