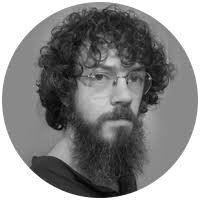 My name is Lance McLemore. I'm 33 years old right now. I graduated from the University of Alabama in Huntsville with a BA in studio art and philosophy. I like to spend my free time creating different things. I might paint, draw, or sew.

I'm on the autism spectrum, and I have verbal apraxia. I started with AAC later than most people. I got my first communication device when I was in college. I think I was about 24 at the time. It was called an Allora. It was a small device with a keyboard, a narrow LCD screen, and word prediction.

I got my first PRC device in December of 2016. When I was going through the evaluation process I initially preferred Word Power, but then I later switched to LAMP Words for Life. I still use that language system to this day. I use an Accent 1000 with direct access, and I have a VI keyguard over the screen.

I am interested in discussing many different subjects: art, music, philosophy, psychology, cooking, sewing, and I could go on and on.