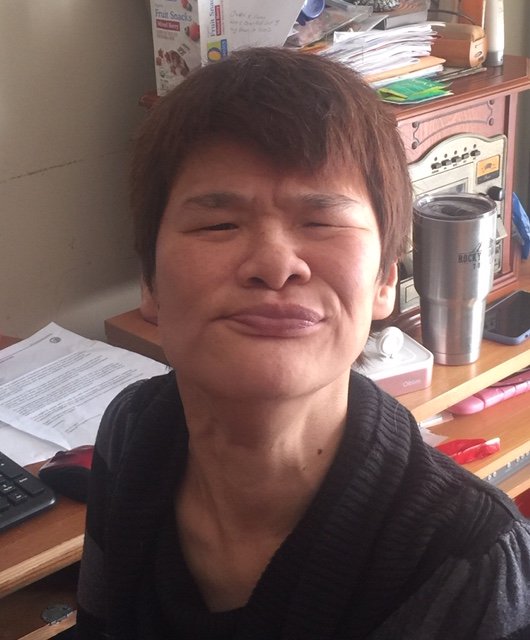 My name is Kim Vuong. I am 45 years old. I was born in Vietnam. I was born normal. At 6 months I got a high fever which caused me to have cerebral palsy. The CP affects my speech. I use two devices to communicate. One is the Accent 800 which I use for presentations. The other one is an iPad which I use every day to communicate. I use the Word for Life with my iPad. My Accent 800, I use Unity Full. I access my device by touch.
My device lets me be a strong advocate in my community. I serve on several community boards. I was chosen as a commissioner for the disabled in the city where I live. I am also on the board of Harbor Regional Center and I am also the chair for the client service committee and planning committee. I am also one of your ambassadors for many years in the great LA area.
The Harbor Regional Center is a private, not for profit-corporation contracting with the State of California for the provision of services to persons with developmental disabilities pursuant to the Lanterman Act. Harbor Regional Center provides quality services, support, information, and choices for people with developmental disabilities and their families, to promote their participation as valued neighbors in our communities.
I also work at Tichenor Clinic for almost 8 years. Tichenor is a therapy clinic for children ages 0-18. We provide occupation therapy, physical therapy, speech therapy, and swim therapy. I am the community liaison and speech aid. In April of this year I developed a transitional program for teens. With the help of my co-worker, OT for Tichenor. We are working with teens to prepare them for transitioning from Tichenor out in the community. We teach classes in cooking, cleaning, laundry, money management, body awareness, and self-advocacy.
I enjoy traveling. Not only for work, but for fun. I have been to many exciting places. My favorite place that I traveled to was an Alaskan and Canadian cruise. I like to go to baseball games. I love the Dodgers and the Red Sox. I am such a fan that every year I travel to Arizona to watch the spring practice. I love cooking and I love going out with my boyfriend of 21 years. We went to the World Series last year and yes we stayed all 16 innings. As I said, we are big baseball fans.