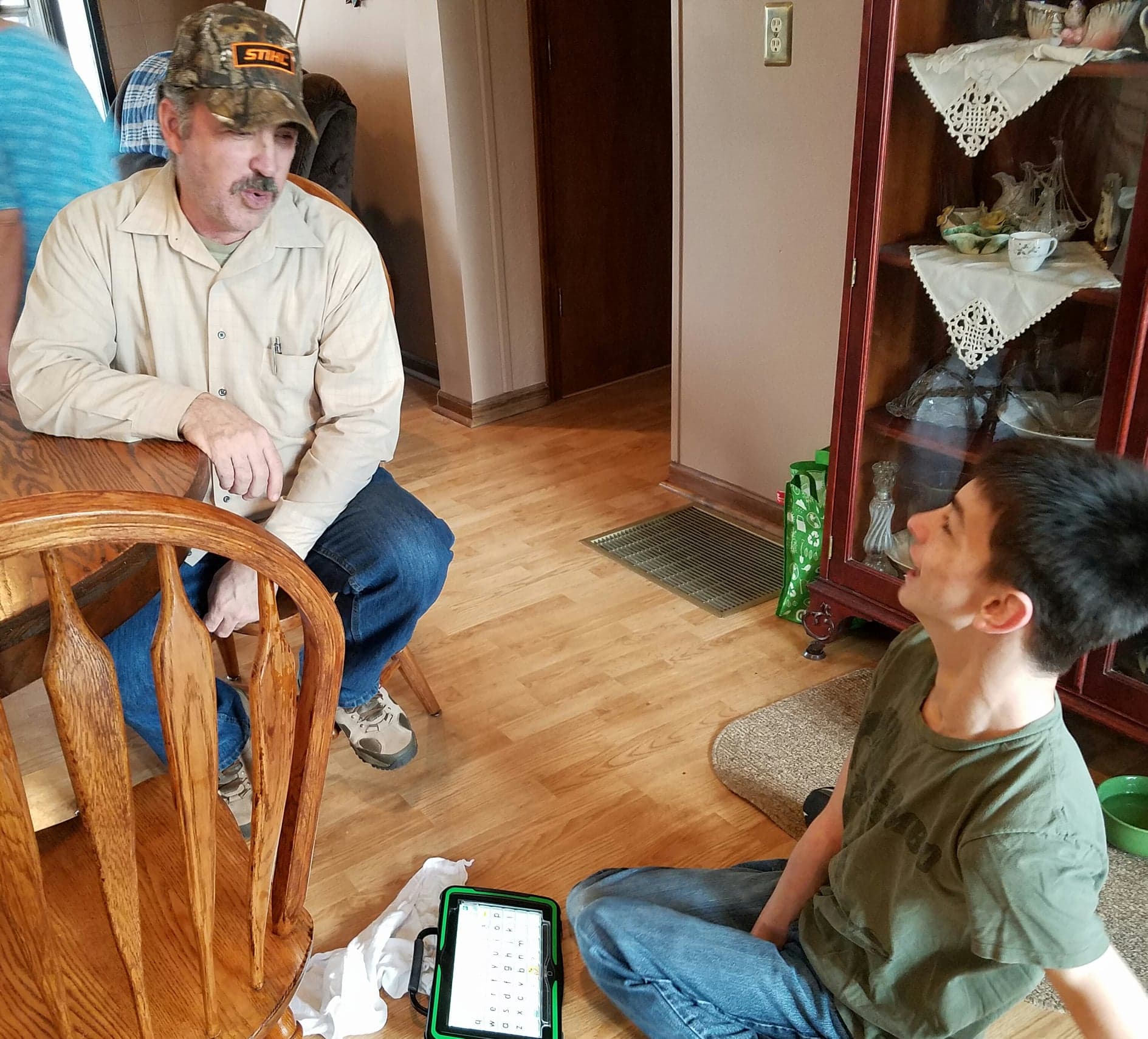 By Kyle Dinwiddie, PRC-Saltillo Blogger
When I was six years old, my speech therapist recommended me to have an evaluation with Mid Missouri Assistive Technology in Mount Vernon, Missouri. I tried multiple types of communication tools during this evaluation. As she watched me, the therapist told my parents that my speech abilities were much greater than picture boards. She said that I needed a more complex communication tool. This is when she introduced me to the Vanguard II Minpeak and unity device. I had no problem using it. My parents were amazed. They were convinced that it would be a great tool for me. So, after a lot of fighting with our insurance, I received my first augmentative communication device.
Although once in my possession, I didn't use it as my parents had hoped. I still relied heavily on simple sign language to communicate my needs to my parents. The problem was this wasn't always a good way for me to communicate since most of my signs were limited because my fine motor skills are limited. Many signs are done with the right hand, and I have better control of my left. And if a sign used both hands, I wouldn't be able to perform them. So, this meant that most of my signs were adapted to my skill level. This was a frustrating and limited way to communicate because there were a lot of times when my parents couldn't understand. My life became a game of charades. Many times, I would just give up on trying to say what I wanted. This was extremely sad when this happened. And my family would try to encourage me to keep trying. I can't tell you how many times I heard, "Kyle, can you try to use your Vanguard to tell us what you are trying to say?"
Instead, I used my Vanguard to write stories. I would spend hours writing them. My dad would make books for my stories. He would draw pictures and I would color them. It was awesome to see my words made into books. I still have each of those books in my bookcase. I would bring them out to show them off to anyone that came to our house for a visit. I liked everyone's encouragement. They would tell me that I should be a writer. The funny thing was I didn't even know how to write. I couldn't even read during that time. I was just using my Vanguard to make the sentences. This was when I fell in love with the great art of story writing.
But it wasn't until I was 13 that I discovered the true value of my communication device. I realized that this greenish-blue machine was my voice. I could have a conversation with someone and could be heard. It has been almost five years ago that I got the Accent 1000, and I can take it everywhere I go. Instead of simple words, I can now be very descriptive and detailed. I can be myself. Telling jokes, talking to friends and family, speaking to my cat, Alfredo, and writing books. I am so very thankful for the technology that has let me be me.
This is Life with Kyle and I will talk to you next week.
There are no comments yet. Be the first to post!
---
You must be logged in to post.

Life with Kyle
-

AAC, communication, language, sign language, vanguard, accent, accent 1000
---