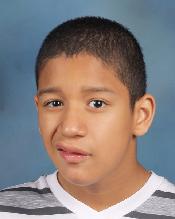 By Junior, PRC-Salltillo Blogger
My name is Junior.
I am in seventh grade. I go to Station Middle School. My favorite color is blue. I have one little sister and one little brother. I am good at math. I like to do IXL. I like to ask people their birthdays. Then I ask what year are you born. I say which day are you born. I am good at it!
I use LAMP on my iPad. I like to ask questions. I use it to talk. I like to talk to Mrs. Velazquez. She is my aide. i like to talk to Ms. Wahrman. She is my teacher. I like to talk to my friends. I use LAMP for communication. I use core on LAMP to write. I like LAMP because I like to talk to somebody.
I have cerebral palsy and it prevents me from using my regular voice. I am glad I have my device to communicate wtih friends and family. Before I had LAMP I used to look at things to talk. That was hard. LAMP is better.
You can see Junior in action!

Communicators In Action
-

lamp, words for life, junior, school
---