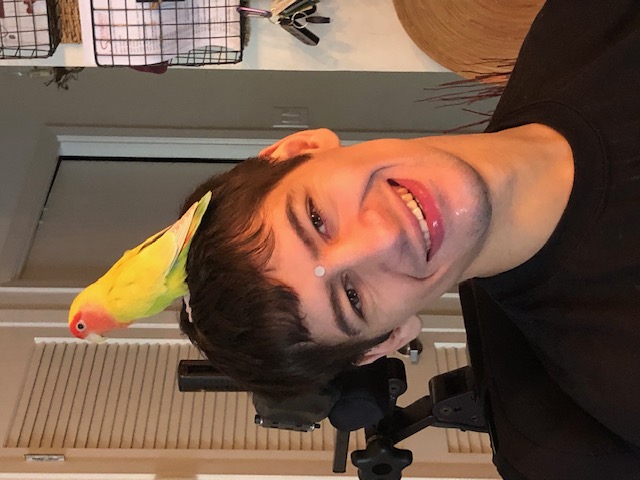 By Chris Sawka, PRC-Saltillo Blogger
Hello, my name is Chris Sawka and I am working on my writing to go to the University of Wisconsin, Whitewater. I am writing about my life and how my life changed with Assistive Technology. When I was younger, I didn't want to use an AAC device because I thought I was different, but one night at dinner my mom told my sisters when you help Chris to talk, you need to use the communication device too. I could teach it to them Then I played around with the augmentative communication device and I said to myself "hey, augmentative communication devices are extremely cool." I have tried switches, I tried eye-gaze and now I use a head mouse. The head mouse/Nu Point is best for me when I'm working with my Accent 1000. With my technology I listen to music and podcasts, I write emails, I connect through FaceBook, I call people, text and facetime, and I am writing this blog post. I worked out my Accent to talk with Siri.
Because I have my assistive technology, I can hang with my friends in bars and movies. I can go to vacations without my parents because I am independent with communication and getting what I need. I use my Accent 1000 to wake up Siri and send text messages, call and face time. It is important because I am doing that by myself. I use my remote controls by my hand to change the channel to watch movies, shows and sports. I love baseball, basketball, boccia, and Chicago hockey. I am missing going to the White Sox games. I hope the White Sox are playing the season; I will go. I will watch the game, order a bratwurst with grilled onions and a beer, and cheer on my favorite team.
I hope everybody does well and stays safe. We are ALL IN for Illinois and Chicago.

Communicators In Action
---